As we all know, Christmas is a time of joy and happiness. Some games apparently think it's a time of darkness and despair though, as a temporary class joins Dragon Nest Europe to celebrate the holidays. Create your Dark Avenger now while you still have the chance, because after January 6 you won't be able to make one any longer!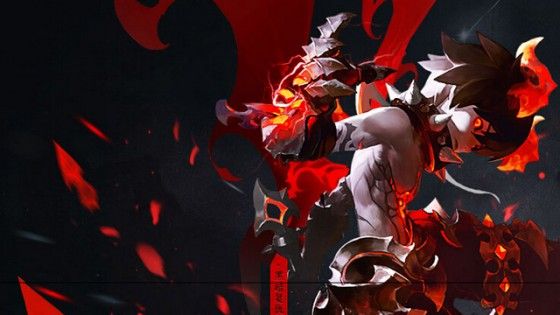 The Dark Avenger
If cheesy Christmas festivities aren't really your thing, then Dragon Nest Europe has got you covered with the addition of the Dark Avenger hero class. You can only create it until the 6th of January though. Players who already have a level 70 characters can create a Dark Avenger that starts immediately at level 60. All other players can only create a level 1 Avenger, which will then specialize into the Dark Avenger at level 50.
The Dark Avenger is sort of like a twisted take on the regular Warrior. With a father that was both a famous hero and also a Dragon Follower, the Dark Avengers is the more sinister and evil version of what the Warrior could be. He is obsessed with proving his worthiness to his father and ends up being consumed by darkness and the never ending lust for more power. To unlock his full potential, the rage filled Level 50 Avengers must face his personified darkness in a duel and by beating it he becomes the Dark Avenger; a powerful warrior fighting darkness with darkness. You can see the Dark Avenger in action in the video below.
Dragon Fellowship Season 3
Evil scientist Jasmine's travels through space and time have led to a growing distortion in time and space. It has left waste floating around, and it has finally merged and in turn formed the Mobius World. Brave heroes have been fighting back the last two waves of old nightmares seeping into raality, but the Mobius World is evolving. Team up with another adventurer and let the Garden of Space and Time guide your group of two into the depths of the Mobius, where you'll be facing foes like Divine Croc Kranos and the Black Dragon himself. Rewards include various powerful skill heraldries and more.
Other Christmas events include the return of Santa Orc and a secret advent calendar. Check it out in Dragon Nest Europe now!
Our Thoughts
We like our happy Christmases with a side of darkness, and Dragon Nest gives us just that with the addition of the Dark Avenger. We'll surely be making one before it becomes impossible!
Source: Press Release
Related:
Anime
,
Christmas
,
Class
,
Dragon Nest Europe
,
MMORPG
,
News
,
Nexon