Festival of the Dad comes to TERA for 24 hours only so now you can experience all of your favorite Dadisms right here on the Island of Dawn and you're going to like it whether you like it or not.
Shock sweeps over the population of TERA as money now grows on trees and players will no longer find themselves needing to stay up all night wondering where the sun went as lighting has been changed to accompany a constant state of Dawn, causing the local wildlife to go into a wild panic. This was a pretty irresponsible decision and we would like to remind players to turn off those lights because we are not made of money. And while we're at it, En Masse have installed a thermostat to the Island of Dawn though having set the temperature already they do ask that you please not touch it or you will be banned.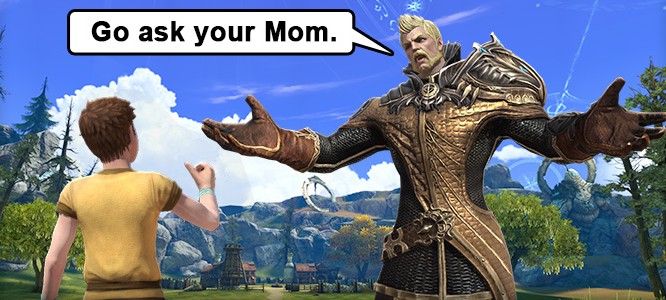 Meanwhile, NPCs now have new dialogs and will only speak in Dad Jokes which will repeat until you /laugh to acknowledge the hilarity. And no longer will they ask "Do you need my help?" but rather tell you to "Go ask your mom." The rudeness of NPCs these days truly makes us wonder if they have their heads screwed on straight but thankfully they will now have visible screws in their neck so that we can clearly see that their head is, in fact, screwed on straight.
The Festival of the Dad event ends with a heated debate over whether or not Valkyon Federation tax rates are fair and if you can't share the loot, you won't get any at all. If you don't understand the rules, they will be repeated to you louder and slower until you do understand them. And if you are found on the Island of Dawn past level 18 you will be permanently kicked off the island because you really have to grow up some day. No Dads were available for comment at this time.
Source: Patch notes
Related:
April Fools Day
,
Event (In Game)
,
MMORPG
,
News
,
TERA
,
Update