The story of betrayal within the Valkyon Federation is continuing with the soon-to-release TERA Hero's Oath update, which has confirmed a release date of Friday, June 7th and outlined the features PC players can look forward to next for the action MMO.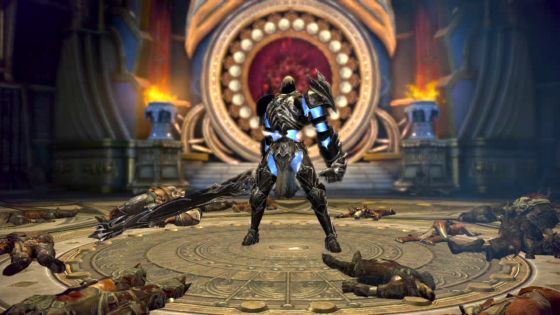 Hero's Oath will add a new dungeon known as Antaroth's Abyss. Players will plunge into the new level 65 dungeon – offered as usual in standard and Hard difficulties – to prove their loyalty to the Federation while also getting a number of unique rewards in the process, including new Masks like the Infinity Mask dropped by bosses in the Hard version.
The update will also add a new tier of equipment in the form of Hero's Oath gear. This new line of kit springs from fully enchanted Stormcry gear and offers a new appearance and significant performance boost to your character. Hero's Oath gear will continue to evolve in stages, with later phases allowing the gear to be enchanted and adding a belt.
Finally, the new update will add a PvE leaderboard system. This new leaderboard works similarly to the existing PvP leaderboards with monthly resets, so dungeon-running players are advised to gear themselves up if they want to secure top spots.
More details about the Hero's Oath update can be found here and a leveling event for the Gunner class that starts today is detailed here.
Our Thoughts
Wow…the Federation has some really stringent policies for proving your loyalty, huh? "Oh, so you tried to betray us? Prove your worth by going through this dangerous dungeon delve!" Then again, if it means lots of shiny rewards at the end, TERA fans will gleefully jump through those hoops. Here's hoping the new dungeon is both challenging and fun!
Source: press release
Articles Related to TERA
TERA PC Slips On a Gilded Mask and an Attack on Titan Costume
The Gunner Class is Headed for TERA's Console Version
TERA Reaches Two Million Players on Console
Related:
MMO
,
News
,
PC
,
Release Date
,
TERA
,
Update