TERA's latest guild-centric content has gone live as The Guilded Age update arrives to the action-combat MMO, bringing a wealth of new gameplay additions and adjustments for guilds in the game.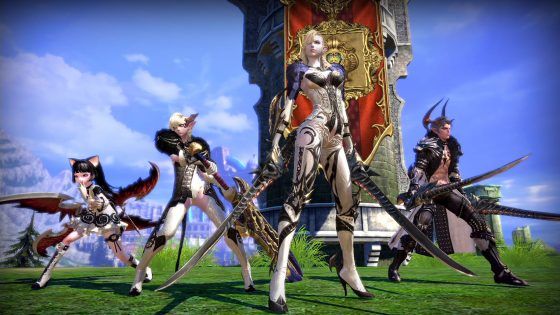 The Guilded Age lets guilds of all sizes take part in a progression system that unlocks new skills for enrolled members, makes adjustments to the current Guild Missions system, and introduces the weekly Civil Unrest battleground where guilds battle for control of Velika by placing towers and defending them from attack to become the last group standing and earn handsome rewards.
In addition to the launch of The Guilded Age, En Masse have also provided a few details about the next updates arriving to TERA. Overhauls of some of the game's classes are planned later this year in to 2017.
First in line is the Sorcerer in the "Spellbound' update, which will bring new visual and mechanical changes to the class. "While the new guild features included in The Guilded Age update will enhance the way that players play together, we are constantly looking to the future," says Matt Denomme, product manager on TERA. "This class revamp represents the first in a series of refreshes coming to the original TERA classes."
The Guilded Age is out now for free in TERA, and an old-timey newsreel video showcasing the Civil Unrest battleground was included in the announcement along with a tease of Spellbound. The video can be seen below, and the patch notes for The Guilded Age are available to read here.
Our Thoughts
The Guilded Age looks like a huge boost to guild quality-of-life and the Civil Unrest battleground looks like a great deal of fun, but we're almost immediately intrigued by the changes that are being hinted at for the game's classes. Spellbound looks like it's bringing a huge revamp to the way many classes feel! Until we get more information, we'll have to simply busy ourselves in The Guilded Age.
Your Thoughts
What do you think of the Guilded Age update so far? Are you excited by the potential for Spellbound? Which class do you want to see get revamped? Tell us your thoughts in our comments.
Source: Press release
Articles Related to TERA
TERA Guilded Age Update Adding Civil Unrest
TERA's Castle Aranea Update Arrives August 9
TERA Aces Wild Update Live with New Features and Content
Related:
News
,
Patch
,
TERA
,
Update