With a massive spear and the sort of style that only the Castanic race can bring, the new TERA Valkyrie is bringing her potent close-range combat to the MMO in a matter of a few days as En Masse Entertainment has locked down a release date.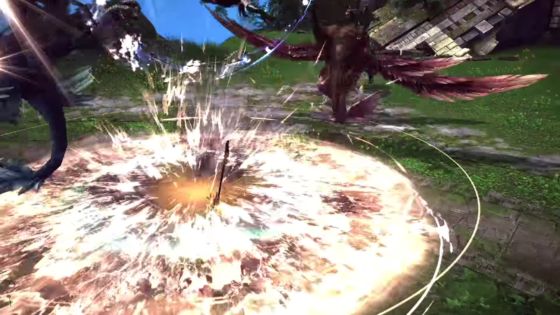 The Valkyrie makes use of a Runeglaive, a large spear weapon that lets the Valkyrie engage multiple foes with massive, sweeping strikes. The bulk of her skills centers around the mechanic of applying Runemarks on enemies, which can then be detonated to blow the target, and anything around the target, off of their feet. Should an enemy fall before Runemarks are consumed, they can be picked up by the Valkyrie and applied to the next target.
The combination of agile combat and Rune Mark detonation grants the Valkyrie class a combination of high damage and crowd control. Players will get to try out the Valkyrie class on Tuesday, April 11th. More information about the Valkyrie's skills can be seen on the official site, and a video overview can be watched below.
Our Thoughts
The pace of the Valkyrie looks incredibly high, and the Runemark mechanic definitely appears to be something that can bring hefty AoE potential. Not only does this class look like a heap of fun, it also looks like it could possibly be challenging for tanker players to keep enemy attention on them and away from the Valkyrie. We're looking forward to trying her out!
Source: press release
Articles Related to TERA
PAX East 2017: Kritika Online Hands-On and TERA's Console Launch
TERA Fang and Feather Expansion Releases Today
Versus: WildStar vs. TERA
Related:
Classes
,
Launch Date
,
MMO
,
News
,
TERA