On the fifth day of the fifth month, TERA's fifth anniversary has been announced, asking for high fives and offering more than five players way more than five neat things at least. Five.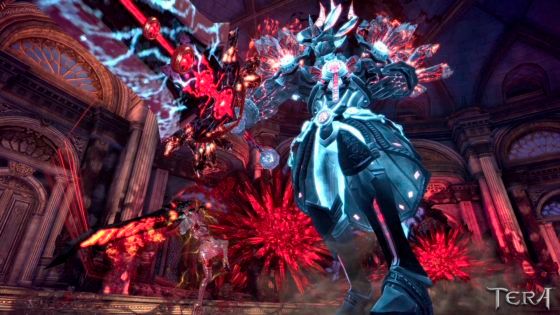 The goodies begin with the launch of the Velik's Fate content update on Tuesday, May 9th. Two new high-level dungeons await players in this update, with rich rewards promised including new armor and new weapon sets.
The month of May will also be bringing a new Anniversary Token Shop to the game, with a rotating stock of unique items that can't be found anywhere else. Items in this new shop can be bought with Anniversary Tokens, which are granted to players who complete certain PvE and PvP challenges that change each week.
In addition, community manager Sean "Spacecats" Gibbons will be hosting quiz events on different servers throughout the month. Fans who can correctly answer TERA-related trivia questions will be given Anniversary Tokens and other in-game goodies. Finally, everyone who logs in during May will be granted a pair of free Fifth Anniversary Wings.
More information about everything heading to TERA in its fifth-year celebration can be found at this website, and a video commemorating the event can be viewed below.
>
Our Thoughts
Congratulations to TERA for five years of operation! The celebrations planned for this milestone sound especially generous and absolutely unique, and we're excited to see how players take to both the in-game goodies and the Velika's Fate update.
Source: press release
Articles Related to TERA
F2P Kingdom: TERA Free to Play is Unhindered Fun
TERA: Ride of the Valkyries
PAX East 2017: Kritika Online Hands-On and TERA's Console Launch
Related:
Anniversary
,
MMO
,
News
,
TERA
,
Update