Nature magic, bears, and a history that has called them out of hiding. That's the new Warden class in a very badly written nutshell. Luckily, the newly-released Warden gameplay trailer does a better job of showcasing the new class to players of The Elder Scrolls Online.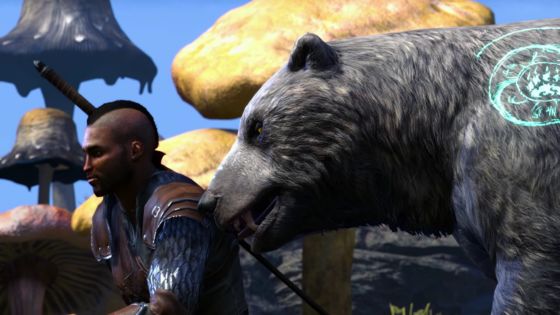 As a matter of fact, how about I let the official description of the Warden summarize the class:
"Revealing themselves to the world for the first time, Wardens possess a wide assortment of abilities to help defend the wilds and people of Tamriel. With the versatility to act as a damage dealer, a healer, or protector (or any combination in between) the Warden's powerful and unique nature-based magic brings an entirely new element to ESO."
Wardens will be capable of using ice to protect themselves, plant-based magic to heal allies, or summon their class-defining War Bear pet to fight alongside them. All of these actions can be seen in the trailer below.
Our Thoughts
The Warden's versatility is certainly one of the most interesting aspects of the class, granting it more flexibility than most other classes currently in The Elder Scrolls Online. We're definitely intrigued to learn more about this class and everything else that's arriving to the MMORPG once Morrowind makes its way to players.
Source: press release
Articles Related to The Elder Scrolls Online
The Elder Scrolls Online: Morrowind Preview
The Elder Scrolls Online: Morrowind Developer Interview
The Elder Scrolls Online Player Numbers Hit New High
Related:
MMORPG
,
New Class
,
News
,
The Elder Scrolls Online
,
Trailer