Many have suspected and many more have wondered about the eerily silent and highly advanced alien ships that have been moving through the Elite Dangerous galaxy. Now, we have official confirmation that they are, indeed, the Thargoids in Horizons update 2.4 – The Return.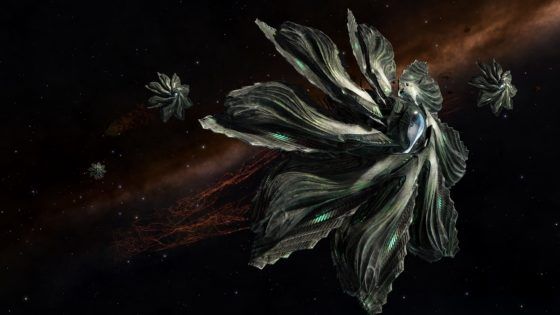 The Return very appropriately refers to the return of the decades-old menace of the Thargoids, which have been a threat to the Elite series of games as far back as 1984. To face this new threat, it's hinted that players will have to create new tactics and technology or see humanity's galactic expansion recede.
The new update will continue the ongoing storyline within the game's narrative at a point where humanity in Elite Dangerous appears at its weakest. "The Federation and Empire are at each other's throats, a second tiny human-occupied bubble has scattered humanity's greatest pilots, and Thargoid scout ships are drawing near," said David Braben in a statement. "They have already probed our space, infiltrated our starports and found humanity to be vulnerable. What happens next will be decided by every Elite Dangerous player."
More details about this content update are to be revealed in the coming months, and the update itself is due to arrive sometime in the third quarter of 2017. You can see a trailer with David Braben hinting at what's next for the game below.
Our Thoughts
Things are about to become very, very interesting for Elite Dangerous players. While a date of Q3 sounds like a long time, we expect the Thargoids will make their moves of aggression in relatively short order, so perhaps it's best to make certain you've got your best loadouts ready to go now…
Source: press release
Articles Related to Elite Dangerous
The Aliens in Elite Dangerous Appear to be Mining
Players Make First Contact in Elite Dangerous
Elite Dangerous Alien Ruins Discovered by Pilot
Related:
Elite: Dangerous
,
News
,
Sandbox MMO
,
Update