Funcom made its fourth quarter earnings report yesterday, which featured a number of insights into how the company closed out its fiscal year. Of direct interest, however, was a preliminary plan for The Secret World relaunch, an effort to "broaden the appeal of the game".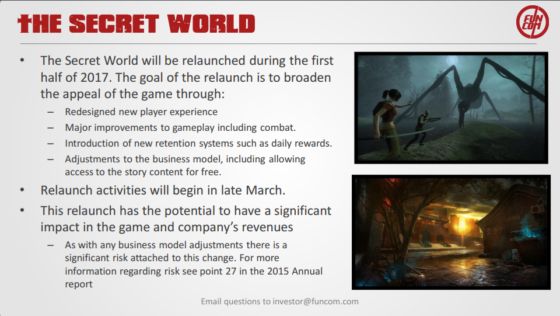 The slide pictured above was taken from Funcom's Q4 presentation, which outlines several steps to renew The Secret World including a redesigned new player experience, "major improvements" to combat, daily login rewards, and allowing free players greater access to story content.
According to the slide, relaunch activities are expected to begin in March with the full revamp currently eyed for the first half of 2017.
Other points of interest from the report include plans to shift development milestones of Conan Exiles forward as more resources are diverted to the game, some minor updates being made to Age of Conan and Anarchy Online, and mention of two "additional projects" in development; one associated with the Conan IP, and another project from the North Carolina office that will enter further development after TSW's relaunch. More can be read here.
Our Thoughts
Guess we know what those "significant" changes hinted at in November are! A lot of what drew folks away from The Secret World was its combat model, so we certainly hope that these proposed changes will be welcomed by both new and veteran players alike. The Secret World has one of the most engaging narratives in all of the MMORPG genre and it would be an absolute waste if more people didn't get to experience it.
Your Thoughts
How do you feel about The Secret World relaunch? Do you think these are moves that should have been made sooner, or do you think this is a matter that should never have even been discussed? What adjustments would you want to see? Let us know in the comments.
Source: Funcom investor's page
Articles Related to The Secret World
Funcom Financials Hint at "Significant Update" for The Secret World
Versus: The Secret World vs. Star Wars: The Old Republic
5 Featuers We Would Like to See in The Secret World
Related:
Funcom
,
MMORPG
,
News
,
Relaunch
,
The Secret World
,
Update