Game metrics are hard to collate I imagine. Turning on a patcher for a game can be mistaken for play. Other times you forget to add that favoured game to your tracking apps and lose out on showing exactly how much you've put into a given title.
That said, there are still numbers to come across. They just don't always agree. What then were the Top 20 Played Games In January?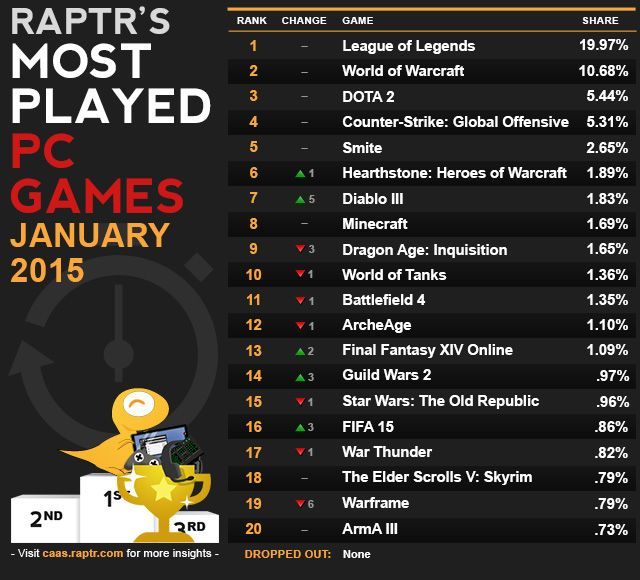 First up we have Raptr with its top 20 most played games in January 2015. For MMO and MOBA players, it's good to see the representation. League of Legends leads the board but World of Warcraft, Guild Wars 2, ArcheAge, Star Wars: The Old Republic and Final Fantasy XIV all put in an appearance as well as World of Tanks and Smite.
Amusingly as nothing is shown as having dropped out of the listings, that means there's still a whole lot of Skyrim being played.
Alternatively we have Overwolf. Their listings for the top 20 are a little different but still feature League of Legends on top with World of Tanks taking a higher spot than World of Warcraft. Guild Wars 2 and SWTOR also show up where as Final Fantasy XIV does not. Smite drops quite a few places but ArcheAge seems to hold a similar place on both.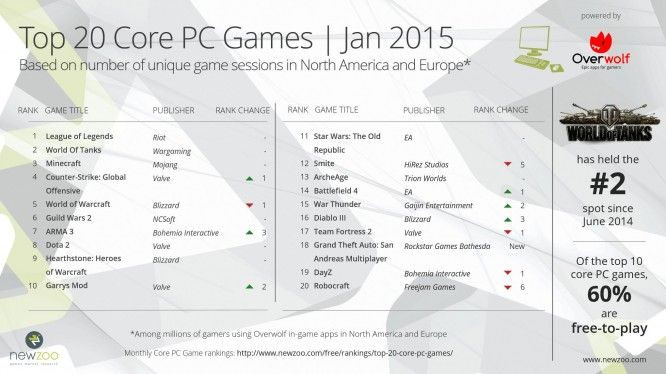 What this means ultimately? What service you use gives different data. Maybe one day we'll get some unified data and find out exactly how much of what people are playing.
Until then, I suppose Big Brother isn't watching. He's probably busy in League of Legends.
Source: [a]listdaily posts [1] & [2]
Related:
Games
,
News
,
Top MMOs