Normally, World of Warcraft guilds come and go like the days, but there are a special few that have earned a place in history through various achievements. One such European guild, Paragon, holds multiple World First raid titles, but it has decided to throw in the towel before Legion arrives.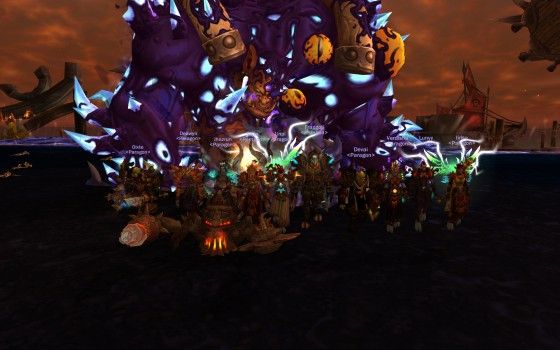 We expect World of Warcraft: Legion to arrive sometime this summer, and although Warlords of Draenor isn't currently offering much there are still many guilds ramping up for the new expansion. One of the top guilds in the world, however, has decided that it simply can't compete at a high enough level with its current roster and is going to sit out the next expansion.
Paragon is a Finnish guild with multiple World First raid kills including: Ragnaros, The Lich King, Garrosh Hellscream, Nefarian, and quite a few more. The guild has been racking up achievements since Wrath of the Lich King and still performed well up to Warlords of Draenor. However, the years have taken their toll on the group's roster and it has been decided that they won't compete once Legion arrives.
"We have decided to stop raiding which obviously means we will not be a part of the world first race in Legion. In the end it came between going international, playing with suboptimal Finnish roster or quitting. For a while I was seriously considering going the international route, but in the end decided it was not worth the trouble for me. This question has been looming over our heads for a long time as it has always been a challenge to get a solid Finnish 20-25man roster together and this time there was no 10man option to bail us out," posted guild member Seita.
Our Thoughts:
It's always unfortunate when a prominent guild is forced to drop out of a game, or simply loses interest, but we wish the Paragon members the best of luck in both life and future gaming endeavors. There are definitely a lot of North American and European World of Warcraft guilds that compete for achievements, and Paragon's list is nothing short of impressive.
Source: Paragon Forums
Related:
Blizzard Entertainment
,
Legion
,
MMORPG
,
News
,
World of Warcraft