Top MMO News: April 8, 2016 includes updates to ARK, Marvel Heroes, Black Desert Online, and the launch of League of Angels II.
ARK Adds Extinction Servers to Xbox One
There is a new type of survival challenge open to Xbox ARK players – Extinction Servers. These are separate from the main servers and will not be the new default play mode. The Extinction Servers are completely wiped at the end of each month, featuring an in-game countdown. The progress is reset by a meteor crashing into the surface of the game world, and so players lose everything and return to starting conditions.
The reason for this mechanic seems to be giving players a new challenge in the form of testing their ability to progress in a limited time frame. There will be special badges awarded for clearing certain milestones, which can motivate players to try to beat the timer and perhaps even make riskier decisions since their progress will be reset in the end. All in all, this sounds like a great challenge for ARK players who want to take their play to a different level and enjoy the rush of racing against the clock.
Aside from the Extinction Servers, the patch also adds content already available on PC, such as the Swamp and Snow Caves, and three new creatures: the unpredictable furry Woolly Rhino, the armored, deep-water Dunkleosteus, and the chitin-rich Eurypterid, which introduce advanced ways to attack and defend, bulk up on armor, and to travel the deep seas with greater defenses. You can see a preview below:
Sources: patch notes; press release
BAFTA Games Awards Winners
The British Academy of Film and Television Arts picked its winners in the video game category! Fallout 4 was crowned as the Best Game for 2016 out of a list of top notch nominees, among them The Witcher 3: Wild Hunt. Rocket League won three awards – Family, Multiplayer, and Sports – beating contenders FIFA 16 and Forza 6. The newly introduced AMD eSports Audience Award was won by SMITE, which the public voted for over League of Legends, Hearthstone, and Dota 2.
Here is a full list of the winners:
Artistic Achievement – Ori and the Blind Forest
Audio Achievement – Everybody's Gone to the Rapture
Best Game – Fallout 4
British Game – Batman: Arkham Knight
Debut Game – Her Story
Family – Rocket League
Game Design – Bloodborne
Game Innovation – Her Story
Mobile & Handheld – Her Story
Multiplayer – Rocket League
Music – Everybody's Gone to the Rapture
Original Property – Until Dawn
Performer – Merle Dandridge (Kate Collins, Everybody's Gone to the Rapture)
Persistent Game – Prison Architect
Sports – Rocket League
Story – Life is Strange
BAFTA Ones to Watch Award – Sundown
AMD eSports Audience Award – Smite
Source: BAFTA Awards
Elektra Joins Marvel Heroes 2016
One of the most dangerous assassins in the Marvel universe is joining Marvel Heroes 2016 as the 57th playable character! Elektra and her lethal abilities are now available in game. Players can choose between her usual red attire or an alternate skin inspired by her appearance in Marvel's Daredevil Season 2: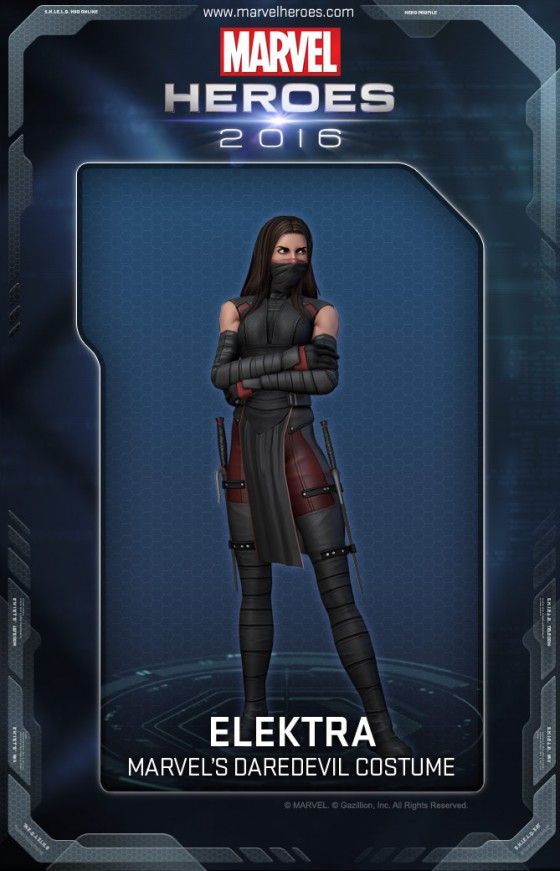 Senior Game Designer Michael May states that Elektra's abilities and play were designed around the notion of assassination rather than stealth, which translated into target-selection mechanics being the main driver for her gameplay. Elektra's style revolves around finding high-value targets, marking them, then taking them out, according to May. This is visible for instance in the ability Marked for Death, which debuffs strong enemies while buffing Elektra.
You can see a preview of Elektra's gameplay below:
Source: press release
Bungie Veteran CJ Cowan Leaves Studio
CJ Cowan, story creative lead on Destiny and 13-year veteran of the studio, announced on his social network channels that he was parting ways with Bungie. There was no other detail offered as to the reasons for this decision or his future plans.
Cowan joined Bungie in 2003 and worked on Halo 2, Halo 3 and Halo: Reach. He held the position of story creative lead on Destiny since November 2015 up to his departure.
Source: Gamespot
Black Desert Adds Auto-Path Looping
Although it might seem like an odd idea to allow your characters to aimlessly run around by themselves, that mechanic plays an important role in the leveling process for Black Desert Online. Training stamina, strength, and horse riding skills is an arduous process in Black Desert Online, but things have just gotten a little bit easier.
The new auto-path looping feature allows players to set a course for their in-game characters to run while they're away. Players can also do this while mounted and have the option to use carrots to keep horse stamina topped off. This is likely most significant for horse breeders who need high-level horses to produce quality offspring.
There were also a few small gameplay tweaks as well. The Instant HP/MP Potion (XL) has been replaced with HP/MP Potion (XL) for the Red Battlefield. Additionally, the minimum DP balancing has been increased, HP balancing for the losing team has been decreased, and Tier 1 pets can obtain skills when reaching level 10.
Finally, there will be a 10% experience bonus until Monday at 08:00 UTC.
Source: Daum Games
League of Angels II Launches in North America
The sequel to one of the most popular browser games of all time is now available in North America. In order to celebrate the event, GTArcade is welcoming players with a new server and in-game festivities for League of Angels II. The Closed Beta surpassed expectations with 22,000 players joining in by April 5, 2016.
"With world-class artists and designers who designed for Legend of the Cryptids, Galaxy Saga, and the World of Warcraft Trading Card Game, the fantasy world of League of Angels II is uniquely beautiful, where the struggle between light and darkness is brought into life. With an advanced 3D game engine and beautiful animations, the spectacular visual experience in LoA2 will definitely delight fans and newcomers alike."
League of Angels II combines turn-based strategy with an active skill system that requires accurate timing to fully utilize powerful attack combinations. There are more than 60 unique Heroes and Angels with a large variety of game modes from Dungeons to PvP.
Source: Press Release
Western Release Confirmed for Revelation Online
Action MMO Revelation Online, developed by Chinese studio NetEase, is likely going to see a Western release in the near future. The game is said to be comparable to Blade & Soul, and it is scheduled to enter Open Beta in China on April 22, 2016.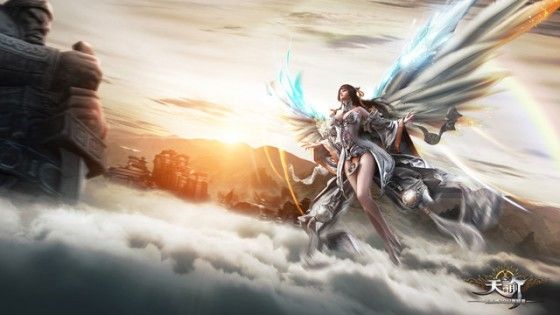 Additionally, the game is also scheduled to release in the West and will be published by a Russian company. However, players won't be able to find out exactly who until May, 2016. Other information surrounding the Western release is sparse, but the game will support English, German, French, and Russian languages.
This will be the first global PC MMORPG release by NetEase, and the studio plans to eventually bring Revelation Online to even more global markets in the future.
Source: 2P
Related:
ARK: Survival Evolved
,
BAFTA
,
Black Desert Online
,
Bungie
,
League of Angels II
,
Marvel Heroes
,
News
,
SMITE