Top MMO News: March 25, 2016 details the Dota 2 Spring Cleaning, Oculus Rift's ship date, World of Warships update 0.5.4, and new awakening weapons for Black Desert Online.
Dota 2 Spring Cleaning 2016
Valve's so-called Spring Cleaning 2016 update looks like a pretty long to-do list that kept being postponed until fixes and improvements just couldn't wait anymore. In their own words, these things "sometimes get lost" between updates addressing tournaments and balancing issues.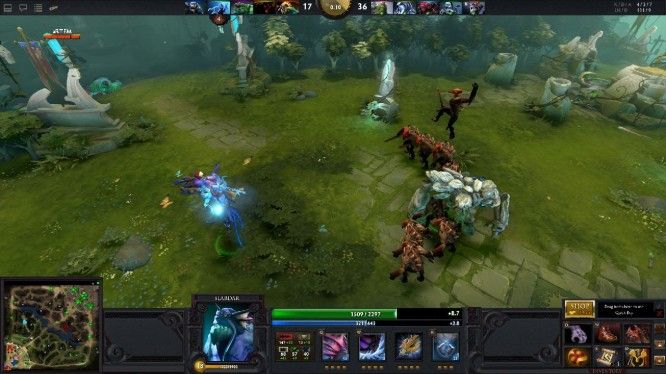 The Spring Cleaning 2016 update brings some changes for a few major features, for example hero-specific ability key bindings can now be set, minimap icons have been updated, the settings menu has been streamlined, and the armory has been expanded and updated with a new section for recently acquired maps.
The update also introduces independent voice chat and muting and new Camera Control Group Hotkeys, as well as a Neutral Span Indicator, which allows Neutral Creep spawn boxes to be seen when selecting Observer and Sentry Wards to place on the map. You can find the full list of fixes and changes on Dota 2's official website.
Oculus Rift arrives Monday March 28
The path of the Oculus Rift's release was a windy one, but after four years filled with hype, crowdfunding efforts, a Facebook acquisition and even more hype, it seems like the VR headset is finally about to cross the finish line. After CEO Brendan Iribe received the very first finished Oculus Rift yesterday the lucky ones who managed to order the VR headset in the first wave should start receiving theirs beginning Monday, March 28.
If you might recall, Kickstarter backers are also due to receive the completed Oculus headset at no cost. We wonder if they are part of this first batch of deliveries, as the next one won't be available until July. Regardless, it's a big moment for Oculus Rift and certainly for everyone interested in VR.
World of Warships Update 0.5.4 brings Russian cruisers and more
The latest update to World of Warships introduces nine new cruisers to the Russian tech tree, as well as the new consumable Surveillance Radar, which is only available to Russian cruisers for now. US cruisers are due to receive this consumable in a future update. In the meantime, there are a couple of new ships added to the live server that you can try out, as well as other fixes and improvements that you can find listed on World of Warships' official news post.
World of Tanks Blitz now available for Mac OS X
Due to the success that World of Tanks Blitz had on Windows and mobile platforms, Wargaming is bringing the game to OS X. So Mac players can now experience the iconic 7vs7 battles as they can download the game in the Mac App store. Requirements include Mac OS X 10.9 Mavericks or higher in addition to 2GB RAM. In order to eliminate any unfair advantage due to the use of peripherals, OS X players will be queued up with Windows players and separately from mobile users.
Armored Warfare Update 0.14
The latest update for Armored Warfare is here and it introduces a bunch of exciting features for its players, among them is the ability to record matches for later viewing. Spectator mode is also available, with players being able to spectate specific vehicles or switch into a free-cam observer mode.
There is a new PvP map available as well as two new Operations for the co-op gameplay mode. Last but not least, there is a new tank edition available, the Wolf, and some higher-tier gameplay issues have been addressed according to feedback received from the community. For an introduction to Armored Warfare's Update, you can watch the trailer below:
Contra Mobile Revealed
It's been quite a while since we've seen a Contra game, but after a few less-than-stellar sequels in the past it seems that Konami has teamed up with Tencent to deliver a mobile port of the game. The trailer was recently released for China, and there's no indication on whether or not we'll see the game in Western society.
Additionally, not much has been revealed about gameplay or monetization, besides what's shown in the trailer. However, it looks like the game is staying relatively true to its roots and adding in a 1vs1 PvP mode. Currently, there are 4 characters planned for launch, with another likely to be added in a later update. It also looks like players will be able to team up with at least one more person.
Black Desert Online Korea Receives Valkyrie Awakening
It'll probably be quite some time before the North American and European versions of Black Desert Online start to receive awakening weapons, but Korea has just received its 6th awakened class with the Valkyrie.
The Valkyrie hands in her sword for a lance and much larger shield. At the cost of mobility, she gains an increase to her attack power, increase area-of-effect, and stronger defense. With any lucky, we'll start to see these unlocks on the rest of the servers before too long.
Source: MMO Culture, Valve, Engadget, Wargaming,
Related:
Armored Warfare
,
Black Desert Online
,
Dota 2
,
MMORPG
,
MOBA
,
News
,
World of Tanks Blitz
,
World of Warships