Top MMO News: March 28, 2016 includes information about ARK: Survival Evolved and a hearty welcome for players from the EVE: Valkyrie executive producer, and catches up on the latest news on the VR scene with Oculus Rift updates and PlayStation VR plans for 2016.
ARK: Survival Evolved Easter Event and New Dungeons
Patch 237 for Ark: Survival Evolved is here with some exciting new content. The limited-time event "Eggcellent Adventure" is open to ARK players this week only. As the name suggests, it will send players on a mission to collect special "bunny eggs" accross the ARK. These eggs can then be painted or used in special recipes to craft themed items, such as Bunny Ears or even a Bunny Costume for the Procoptodon. Players can also summon a special mob with the help of the special eggs and a cooking pot: the Bunny-Dodorex. This is "just" a Dodorex wearing bunny ears, but that doesn't take away from its fierceness, so players should beware of summoning it too close to buildings as it can still destroy metal and stone.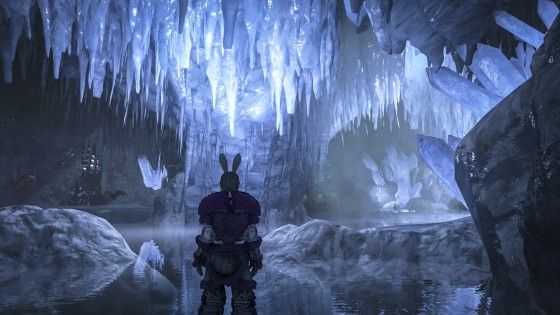 In addition to this event, players also have access to two new high-level dungeons: the Snow Cave and the Swamp Cave. These challenging dungeons are geared towards high level players and contain high-end loot, advanced artifacts, and also clues about the mysterious origins of the ARK. The Swamp Cave will require players to use scuba gear to counter poisonous gas, while the Snow Cave's extreme cold will require higher level gear as crafted fur armor will not be enough to counter it.
EVE: Valkyrie Launch Day Welcome & Trailer
With the delivery of the Oculus Rift comes the immediate availability of launch day-ready games as well, and one of the most expected titles on the list is EVE: Valkyrie, which was also included with the Oculus Rift preorder.
The game's Executive Producer, Owen O'Brien, published a message today welcoming players to the Eve: Valkyrie universe and, in a larger context, to the world of VR and a completely new experience of immersion and discovery.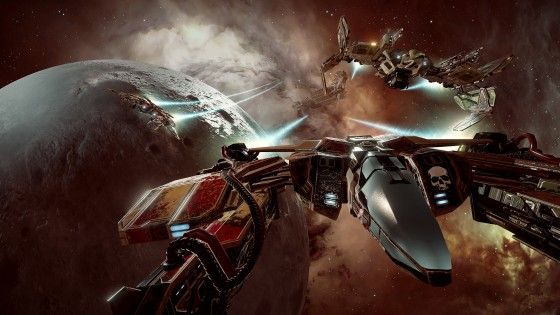 He also released a public roadmap of the upcoming content and priorities that the developers have for EVE: Valkyrie. Players are encouraged to share their ideas and suggestions as the team is keeping a flexible workframe and wishes to improve the game experience and address the community's feedback in the upcoming content releases. O'Brien also acknowledged the fact that there might be quite a few unknown, unexpected issues to fix due to the novelty of the VR platform and the limited amount of testing or examples available.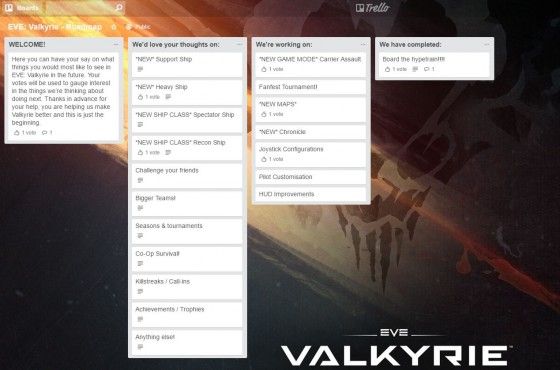 Considering that the aim of EVE: Valkyrie is to be the best competitive multiplayer game on the VR platform, keeping the community close and growing with it, actively working on content, and listening to feedback seems like the perfect way for the CCP team to achieve their goal.
You can watch EVE: Valkyrie's brand new launch trailer below:
Oculus Storefront Allows Access to External Software Free of Charge
Oculus had some great news today for developers looking to distribute software on their platform. The Oculus storefront and platform are being kept open, and developers will be able to sell their software via other platforms such as Steam. However, Oculus will not charge anything for sales or for in-app purchases made via their platform by an outside seller.
According to the blog, the reason is giving Oculus Rift users more freedom as to the software they wish to access, and that includes content not available in the Oculus store. This choice will be as easy as toggling the "Unknown Sources" option, after which users can browse all content available but not included in the Oculus store.
First Oculus Rift Delivered By Founder
Today saw the delivery of the first batch of Oculus Rift headsets along with a flux of news about their unboxing, first hands-on experiences, opinions and reviews. But there is one Oculus Rift user who unknowingly was the first buyer of the headset, and who will probably never forget receiving it.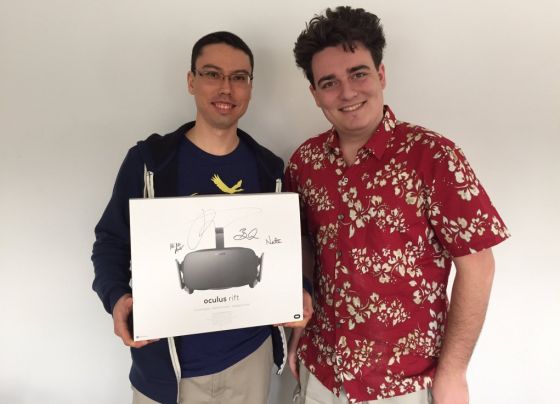 Ross Martin, a VR enthusiast and indie developer from Anchorage, Alaska was the very first buyer to receive his Oculus Rift on Saturday. The box was delivered by none other than the company's founder, Palmer Luckey, for whom this was more than just a cool story part of a marketing strategy. This delivery marked the end of a long period of creation and development, and seeing the finished product reach its audience is as rewarding for the team behind it as it is for the consumers to receive it. Palmer Luckey's statement for Polygon pretty much says it all:
"This didn't come together until the last second, I've had a bunch of things that I've wanted to do over the years, and I was pretty adamant (…) I said, 'Hey guys, I've been working on this since 2009, we've been working on Oculus since 2012, I'll be damned if some random delivery guy is going to get the satisfaction of delivering the first Rift. That's mine.'"
Sony PlayStation VR Plans
Hot on the tracks of its PC-oriented counterparts, PlayStation VR seems to have some interesting news of its own for 2016, including a yet unconfirmed upgraded PlayStation 4 model and a possible expansion of the PlayStation VR to PC.
FIrst off, Sony is said to be planning the release an upgraded version of its PlayStation 4 model this year, dubbed for now PlayStation 4K or PlayStation 4.5. The new model should be able to handle ultra-high-definition resolution graphics and provide more power for running the PlayStation VR gear. This surpasses the current capacity of the PS4, which is not ready for 4K-content. This upgrade had already been hinted at by Sony itself as well as various other sources such as Eurogamer, Kotaku, Forbes and Huffington Post but nothing has been officially confirmed yet. With the PlayStation VR platform coming out in October, it is possible that the PlayStation 4K might be announced around that date as well.
The other piece of information comes from Japanese publication Nikkei. Masayasu Ito, the executive vice president of Sony, stated that Sony is considering to make the PlayStation VR headset compatible with PCs, due to the fact that the two platforms have similar architectures that would allow this expansion. However, this would be a plan for a later date and not something to look forward to for the headset's launch in October, as Sony is choosing to focus on developing games for the new platform for now. The interview also revealed that the consumer demand for the PlayStation VR was "greater than initially anticipated", with the company planning to ship at least two million units this year.
It looks like Sony is shaping up to be a serious participant in the VR scene, and if these plans are confirmed, PlayStation VR might provide some serious competition for the PC-oriented headsets.
Sources: ARK:Survival Evolved Steam update, EVE: Valkyrie official blog, Game Informer, Engadget, Wall Street Journal, Polygon
Related:
ARK: Survival Evolved
,
EVE Valkyrie
,
News
,
Oculus Rift
,
PlayStation VR
,
VR