The newest update to Trove adds the Player Marketplace, which opens the floodgates for the free market.
Now players will be able to sell all their unwanted items and treasures for Flux, Glim, Chaos Chests, and other forms of currency. The new Player Marketplace can be accessed at anytime from anywhere by pressing "U," and all items are set to buyout prices; this means there will be no bidding wars in Trove.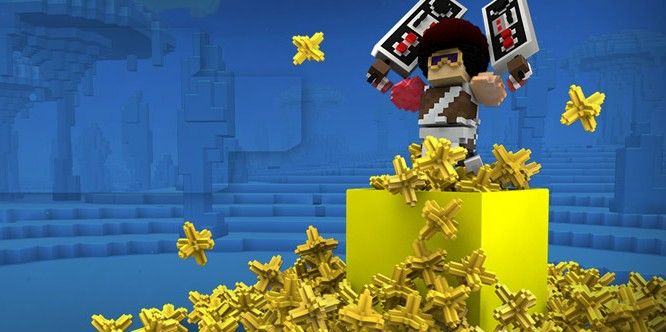 What is a player to do with all this new found currency? Well, they can head to the Treasure Isles and grab a Trove of Wonders. These new treasure caches can only be purchased with Flux and contain a variety of rare items.
Items found in Trove of Wonders:
F4-S.T. Prototype Rocket – It may not pass an emissions test, but it passes the litmus test for cool
Hadori, the Promise of Spring – Leaves a trail of flowers wherever she runs
Illuri of the North Wind – Transforms water into ice, temporarily, thus able to run on water
Kabiri, the Firetamer – Grants immunity to fire, and briefly transforms lava into standard blocks
Ganda the Sky Shepherd – This extremely rare bird of paradise turns air into gold, for a short time, allowing you to run through the heavens
Albairn, Voice of Dawn – Mechanical, magnificent, and melodious are great words to describe this powerful new dragon. You've never seen anything quite like this!
Fortras, the Herald of Battle – This gorgeous dragon wields tremendous power, and channels it into bombs that allow quick collection of blocks and ore
Turtle Tank – Not all turtles come equipped with a massive cannon, but this one does!
Royal Tortoise – This mount allows speedy transit across both land and sea
Radical Rainbow Wings – Carry a rainbow of colors with you wherever you go, and glide in style!
Furthermore, Trove is also providing players with a new way to purchase in-game currency. Pre-paid Karma Koins can now be purchased from local retailers and entered into Glyph as a payment option for all Trion games.
Source: Trion
Related:
Marketplace
,
MMORPG
,
Trion Worlds
,
Trove