We already know that the Trove – Heroes update is going to be bringing a bit of comic book panache to the boxy MMO, but what if you're somehow not interested in playing as a voxel superhero? That's what the latest dev blog is touching on, including some new UI elements, VFX culling features, and changes to the Dracolyte.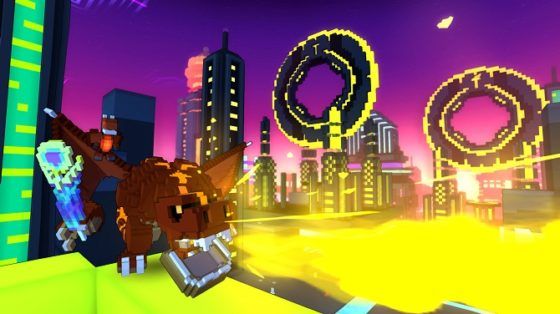 Trove's Welcome Screen will be receiving a makeover, making the element smaller and cleaner by showing only the current Daily and Weekly Bonuses. On the subject of Daily Bonuses, those will change by arriving on the same day as similar bonuses, such as Adventure and PvP XP bonuses arriving on Saturday. Trove is also making Sunday Loot Day, with increased Magic Find, double the chance to find Flux Artifacts, and a ramped-up Chaos Chest drop rate.
The next update to Trove will also introduce some new culling features for visual effects in order to help players better pick out the spell and attack effects of themselves and enemy targets. Shadow Tower boss fights will cull other players' effects to allow you to better see the effects of the boss on your character, while PvP will prioritize attack effects of others around you.
Finally, the Dracolyte class will be seeing a number of adjustments with nearly all of them landing on the "buff" side of the scale. Of note, the Dracolyte will see an increase in both diameter and length of the Flamethrower attack; several buffs to Avatar of Flame; and Dragon Idols spawning a guaranteed Dracolyte minion with the Burning Ward gem equipped.
Our Thoughts
Sure, it's easy to focus on the new zone and new class arriving with Trove – Heroes, but it's good to know that there are a few other changes coming too. We assume that Dracolyte players will be pretty pleased with the class changes overall!
Source: official site
Articles Related to Trove
Trove Gets Superheroic with Next Expansion Trove – Heroes
Trove Marks 15 Million Worldwide Players
F2P Kingdom: The Cute and Cubist Worlds of Trove
Related:
MMO
,
MMORPG
,
News
,
Trove
,
Update