Sure enough, there's more coming this Summer than just another battle royale mode. Trove – Geode is coming as well and will take players to a new planet with caverns to explore, people to meet, and creatures to face.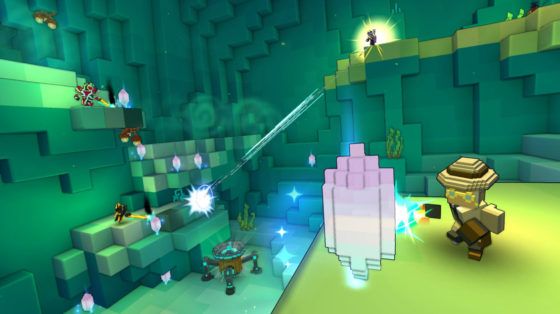 Geode is a planet that features several cave networks running beneath its surface. The residents of this world face a new threat from the forces of shadow and are asking for Trovians to help by exploring these caves and gathering resources to help the Geodians fight back.
Described as an update that focuses more on exploration and less on combat, Trove – Geode will have players taking on story-driven quests to discover these maze-like cavern tunnels. Along the way, they'll discover new companions and collectibles in what's described by the announcement as "the next step in Trove's evolution" and an update that will introduce a completely unique feel.
Of course, in addition to this new cave-filled planet, the Summer update will also introduce the 20-player Bomber Royale mode to the game. All of the content updates will arrive for PC, Xbox One and PlayStation 4 players on Tuesday, June 26th.
Our Thoughts
This announcement is a tiny bit thin on specifics, but we do like the idea of this new content update being less focused on combat and more focused on exploring caverns. It's not a gameplay style we see often focused in MMO design, so consider us curious to learn more about what Trove – Geode is all about.
Source: press release
Articles Related to Trove
Explosives and Battle Royale Combine in Trove: Bomber Royale
F2P Kingdom: The Cute and Cubist Worlds of Trove
Trove Game Page
Related:
MMO
,
News
,
Trove
,
Update