It's no City of Heroes – few things are – but a superhero-themed Trove expansion could be a pretty decent filler until the Legacy Projects are released. Trove – Heroes is bringing comic book heroism to the boxy MMO with a brand new region to explore and an all-new class to play.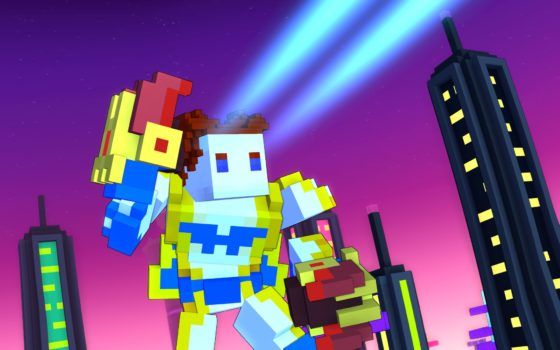 Trove – Heroes takes players to Luminopolis, a section of Neon City replete with high-tech skyscrapers and (of course) a villainous group of robots known as the Amperium. It will be up to players to join the cause of the Resistors to take back Luminopolis and stop this determined villain group.
Luminopolis will introduce new adventures, new NPCs, and giant Mega World Bosses to battle. The expansion will also add the Beacon system, which will introduce shining beacons (duh) to draw players into battles with enormous enemies and the promise of loot for the victorious.
Trove – Heroes will also add the Vanguardian class, a silver age comic-styled Expert Class that offers up a combination of melee and ranged attacks to help players take on Luminopolis's numerous challenges and look virtuous doing so.
Trove's next expansion will arrive sometime this Spring and will launch completely free.
Our Thoughts
It's no secret we love us some comic book-flavored MMO action, so we're looking forward to seeing more about what Trove – Heroes has in store for us. If nothing else, being able to play voxel Superman sounds like a lot of fun at least!
Source: press release
Articles Related to Trove
Trove Marks 15 Million Worldwide Players
F2P Kingdom: The Cute and Cubist Worlds of Trove
Trove: Adventures Brings Club Progression and New Content
Related:
Expansion
,
MMORPG
,
News
,
Trove
,
Update