We're not sure many classes sound quite as awesome as "Dino Tamer", and if you're a console player of Trove, then the upcoming Megalithic Update will let you get your hands on your very own Dino Tamer class. The upcoming update will also bring a variety of other similarly-themed pieces of content to the voxel MMO…but really, it's all about that Dino Tamer.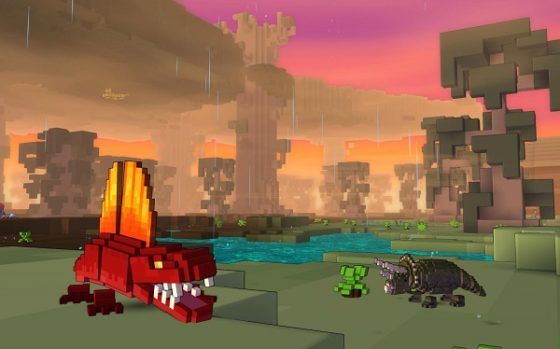 In case you're not familiar with the class, the Dino Tamer lets players summon a random Dino Buddy in combat, from a stunning pterodactyl to a DPS raptor to a tanking triceratops. Dino Tamers have access to a dinosaur mount to empower their attacks. They also can use a net to hold and debuff foes, which reduces the cooldown on Dino Buddy if a snared enemy is killed.
In addition to the unique new class, the Megalithic Update will introduce the Jurassic Jungle area to console Trove players. As the name suggests, this new zone is packed full of prehistoric enemies including angry dinosaurs and hostile Ape Men. For those that brave the dangers of the new realm, a variety of unique Styles and Recipes will unlock.
The new update will also offer up new dragons, mini-games, craftable classes, and seasonal events. A release date for the update is not yet announced, but the post teases that more information will release in the coming weeks.
Our Thoughts
This update is certainly sticking with a theme! We're sure that console players will have a good time with the new class or be eager to explore the new zone arriving in this update. Though we are curious what other information is yet to be revealed.
Source: official site
Articles Related to Trove
Trove PlayStation 4 Review
Trion Announces Trove Chinese Release Plans
Trove Console Launch Officially Begins
Related:
Console
,
MMORPG
,
News
,
Trove
,
Update