Shadow Arenas have been evolving with the Rise of the Shadow Tower update, so now you have to take the fight against the forces of darkness to a whole new level in the perilous Shadow Tower! It's a place where darkness completely engulfs everything, so it's up to you to bring the light.
Now it's time to test your mettle as you fight your way to the tower's peak by defeating powerful new enemies: the fearful Shadow Titans. These Shadow Titans have a variety of different abilities to crush you with, so beware! Once you reach the top level of the Shadow Tower, you'll face off against the Daughter of the Moon; the toughest enemy ever to darken the Trovian landscape. She's pretty tough to beat, so good luck.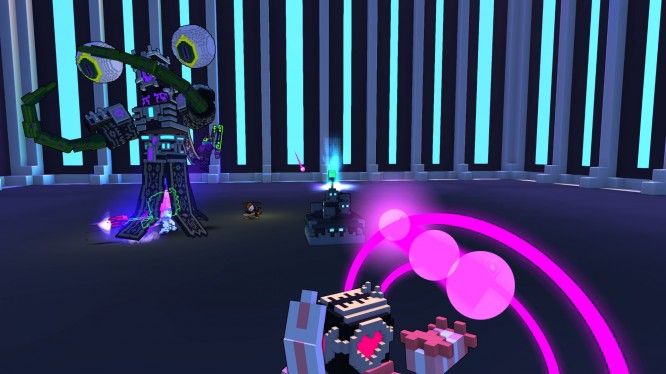 To give you a better idea of what Shadow Titans you will encounter in the Shadow Tower, here's a few that you might face:
Spike Walker: A massive mechanical monster with powerful spike attacks.
Weeping Prophet: A towering fiend that only has eyes for you. You don't want these eyes on you though, as they shoot blazing lasers at your face.
Piñata God: Innocent piñatas have been smacked by Trovians for too long, so now it's payback time! Brutal stomp attacks and deadly confetti breath are just a taste of what this papier mache powehouse can do.
The Shadow Hydra will make its debut in the Shadow Tower in an update that is coming soon, and it's a powerful boss created by a Trove player, which was then picked by the community via voting.
The Shadow Tower rises on September 15th, so make sure you're ready to fight!
Source: Rise of the Shadow Tower Preview
Related:
News
,
Trion Worlds
,
Trove
,
Update
,
Voxel