Trion Worlds released a preview of Trove, giving players an idea of what they might experience in the first five hours of game play.
Trove Unboxed: The First Five Hours
A recent post by Trion Worlds gives users an idea what they can expect from their upcoming game, Trove. Here are some highlights:
Tutorial Quests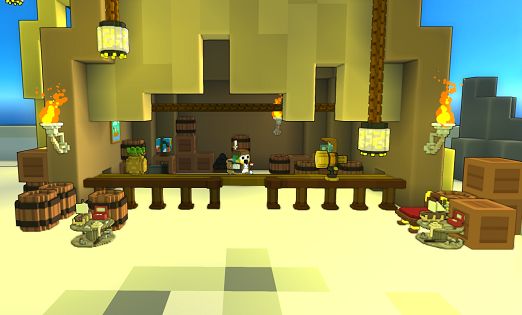 Tutorial quests appear to be both fun and educational, hooking players and teaching them how to play the game. Tutorial features include combat lessons, a collections walk-through, a class selection guide, and a Cornerstones lesson:
Combat – Learn what to attack, how to attack, and how to dodge attacks.
Collections – Find out how to collect blocks, loot items, equip styles, and mine ore.
Classes – Earn currency (Cubits) to unlock alternate classes and learn how to swap between them.
Cornerstones – To learn more about Cornerstones, read Trove Unboxed: Cornerstones.
The Hub
Players will also experience the Hub in the first five hours. The Hub contains several key features From adventure portals to the barbershop, the Hub is the player's home base:
Adventure Portals – These multi-colored portals are found in the Adventure Tower in the Hub and allow access to Trove's many worlds.
Club World Portals – The Hub also contains a collection of featured Club Worlds – huge, player-created realms!
Trading Posts – Use a Trading Post to safely trade or sell items with another player.
Class Changers – These will allow you to swap between unlocked classes or unlock new ones.
Gone Fishin' – Visit Saltwater Sam to pick up a fishing pole, bait, or designs to craft your own boat. Salwater Sam won't leave you high and dry! Drop in for all your nautical needs.
Barbershop – Customize your character at the Barbershop by changing up your hair style, hair color, eye color, and more!
For more information, visit the official dev blog post here.
Source: Trove Unboxed
Related:
MMO
,
MMORPG
,
News
,
Preview
,
Sandbox
,
Trion Worlds
,
Trove