Well I never thought I would be calling something so blocky 'adorable', but Trove's new dragon pup really is quite adorable. Oh right, dragons are coming to Trove on July 9th. First you earn the cute little critter, then you raise it until it becomes a fire-breathing dragon gifted with the power of flight. That's right, you raise your own flying dragon mount just like the Mother of Dragons herself. Or not. Your choice.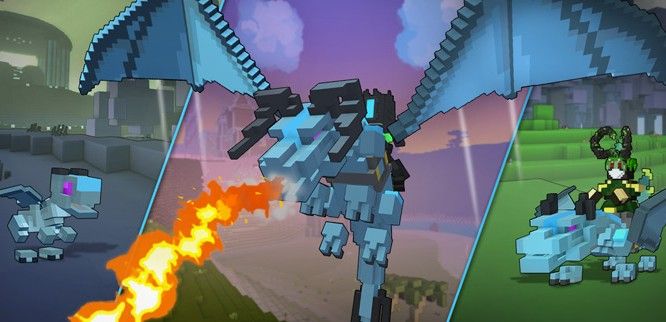 To unlock the Azulian Dragonling, you must consume Azulian Dragon Souls earned by completing Challenges, which are specific tasks completed in a set time starting at the top of each hour and running for twenty minutes. You can complete Bronze, Silver, Gold, and Platinum levels of each Challenge, each level awarding you with a certain number of Dragon Caches.
There are two levels to the dragon mount, the first is the Azulian Fledgling Mount, the second the Azulian Dragon which comes complete with flight and fire-breath.
In addition to dragons and Challenges, Trion have revealed Badges which you earn by "doing stuff". What do they do? Your guess is as good as ours, but they certainly add something to Trove for the collectors and completionists.
Source: Trove dev blog
Related:
Features
,
Launch
,
MMORPG
,
News
,
Trion Worlds
,
Trove
,
Voxel