The newest Trove console update first announced back in April is on its way. PS4 and Xbox One players of Trove have a Megalithic Update release date, with a new class, new biome, and other new gameplay additions arriving to the voxelbox.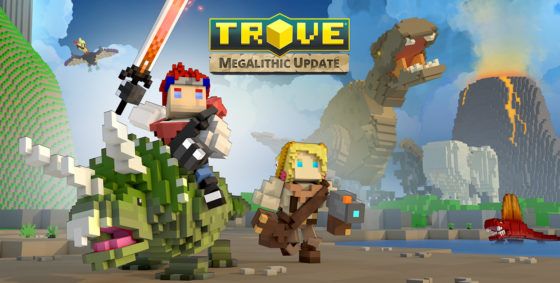 The Megalithic Update brings with it the new Dino Tamer class and a Jurassic Jungle biome for all of your prehistoric dinosaur needs, but will also feature Racing and Coin Collecting Minigames that can be accessed at the top of every hour. Additionally, players can build their own minigame maps in Club Worlds and invite others to get the high score.
The update will also introduce new daily login chests, along with Chaos Chest drops that can be earned simply by playing the game. These Chests contain items that can be brought to the Chaos Crafter bench to create new items such as costumes, mounts, Class Unlockers and more.
The Megalithic Update will be available on PS4 and Xbox One on Tuesday, June 27th. More details can be read at this blog post, and a trailer for the update is available for viewing below.
Our Thoughts
Nothing brings video game enjoyment quite like dinosaurs, and this update certainly has plenty of 'em. Of course, there's a bit more to the Megalithic Update than that, but why else would you make a prehistoric reference in your content name unless you wanted to focus on the dinos? Short version: we really like dinos.
Source: press release
Articles Related to Trove
Trove Megalithic Update Bringing the Dino Tamer to Consoles
Trove PlayStation 4 Review
Trove Console Launch Officially Begins
Related:
Console
,
News
,
Sandbox MMO
,
Trove
,
Update