Are you thirsty for a multiplayer title that lets you live out your un-life as a vampire? Then you perhaps might be interested in the vampiric MMO Shadow's Kiss, a new Kickstarter project that launched today. Just in time for Halloween.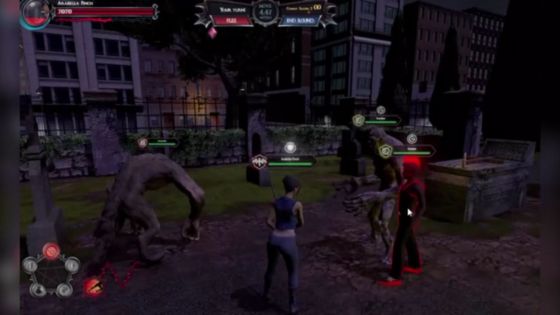 You might remember Shadow's Kiss from a story we ran last year, but here's a refresher. Shadow's Kiss is a project pieced together by indie studio Clockwork Throne, which is made up of a team with combined 17 years of MMO experience, including work on such titles as Pirates of the Burning Sea, Wizard 101, and Crowfall.
Players can create their own vampiric avatar by selecting their look, story motivations, and even their appearance when they transform. The type of vampire a player can be ranges from the classic "true" vampire to an incubus/succubus to even a zombie-commanding Verdilak. In either case, Vampire's Kiss emphasizes a "classless" system.
Combat in Shadow's Kiss is turn-based, granting players the opportunity to consider their moves, including those of diplomacy. Influence is also important in the world of Shadow's Kiss, as players can make enemies or allies with a variety of in-game factions.
Shadow's Kiss is asking for $25k, with the majority of the funds being put to game programming, world building, and story and lore. Stretch goals are also being offered in the form of "mini-factions" that will be playable but not have quite as much content as vampiric player characters. These additional factions include the Loupgarou werewolf and the magic-wielding Adept.
More details about Shadow's Kiss, including backer tiers and a video detailing the game, can be found on Kickstarter
Our Thoughts
Clockwork Throne is right: there is no vampire fantasy MMO out there, and the ideas being laid out by Shadow's Kiss are definitely intriguing. Considering the project is more than halfway funded, there's a good chance we'll be seeing this game make its way to greater development and we'll certainly be keeping our eyes peeled.
Source: Kickstarter
Articles Related to Shadow's Kiss
Vampire-Themed Adult MMO Shadow's Kiss in Early Development
The MMO Alpha and Beta List: October 28, 2017
Best MMO Halloween Event 2017
Related:
Crowdfunding
,
Kickstarter
,
MMO
,
News
,
Shadow's Kiss