As reported earlier, Wargaming and War Child are partnered up to raise funds for the UK-based charity and its mission to aid children in conflict zones across the globe. Players of the World War I FPS Verdun will get their opportunity to help out with the release of Verdun Christmas Truce DLC packs.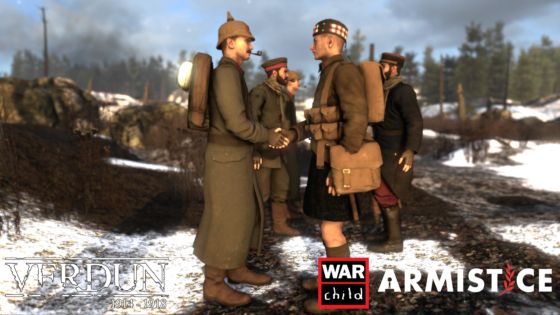 The DLC references the Christmas Truces that took place during World War I across several front lines from 1914 through 1918, and will let players of Verdun participate in non-combative gameplay such as snowball fights, soccer matches and singing Christmas carols.
The Christmas Truce DLC packs are offered in three tier levels, from $2.99 to $12.99, and will offer players the content regardless of which tier they purchased. The content will be available for play from now, December 16th, through January 2nd. All proceeds from the DLC go directly to War Child.
A trailer for the DLC re-enacting one soldier's account of a Christmas Truce using in-game assets can be seen below.
Our Thoughts
The Christmas Truces that took place during one of history's bloodiest wars are events that are intrinsically tied to the season's intention of promoting peace and goodwill, so we're delighted to see Verdun not only offer a nod to this event but also support War Child's mission. We hope that Verdun players will be able to support War Child and will enjoy the DLC's content.
Your Thoughts
Will you be buying up one of Verdun's DLC packs, or are you going to offer support to War Child in other ways? Share your thoughts below in the comments.
Source: press release
Articles Related to Verdun
Verdun Goes Forth with Official Stream Launch
Verdun Preview
Verdun Interview
Related:
Charity
,
DLC
,
MMOFPS
,
News
,
Verdun