Warhammer: End Times – Vermintide is the Left 4 Dead successor we've been waiting for, and apparently 300,000 people agree as Fatshark have revealed that is how many sales Vermintide has reached since launching two weeks ago. To celebrate, they will introduce the game's first DLC, Sigmar's Blessing, completely free!
"We couldn't be happier to reach 300,000 sales of Vermintide so far and the player reception and feedback, has left us humbled more than anything," said Martin Wahlund, CEO of Fatshark. "I'm super excited to announce that Sigmar's Blessing will be free for all current and future Vermintide players, plus, going forward, Vermintide will offer alternating free and paid DLC."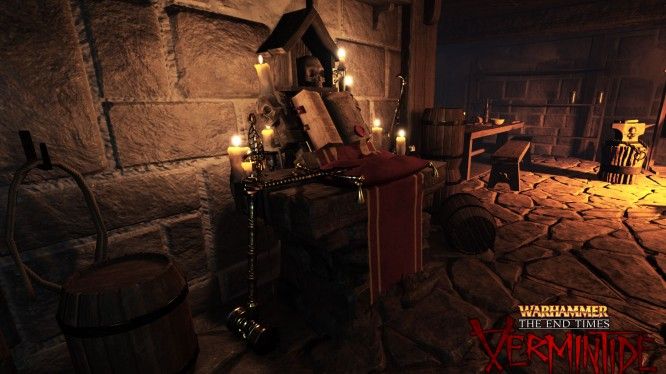 Vermintide players will gain access to the Sigmar's Blessing DLC on December 3rd. The update will bring some awesome new features, including the ability for players to control what loot is dropped, a new altar in the Inn which will provide ways for players to 'sacrifice' existing loot to improve the players arsenal. There will also be brand new traits added to loot tables and new unique weapon drops in the red loot class. Each of the red weapons features a set trait combination.
Outside of the Sigmar's Blessing DLC, Fatshark has plans to add a private mode for players who seek an even greater challenge, allowing them to fight Skaven solo. Realism mode is also going to be implemented. This will see the game HUD, cross-hairs, and more removed to create a truly immersive Vermintide experience. Also on the cards is survival mode, which will pit players against wave after wave of Skaven to see how long they can last.
Our Thoughts
We had been eagerly anticipating the launch of Vermintide for a long while now so we're over the moon to see the game doing so well! And what better way to celebrate than with free DLC? The idea to alternate between free and paid DLC is also a good one. This allows Fatshark to earn capital to keep the game running and provide more free content, but also allows them to give back to players periodically too.
Source: Press Release
Related:
DLC
,
FatShark Studios
,
Milestone
,
News
,
Shooter
,
Vermintide
,
Warhammer