Playgrid Games has joined forces with global development studio Petroglyph to create what they hope will be the next phase in MOBA gaming – Victory Command, a fast-action military MOBA which will be available via Steam Early Access some time this month.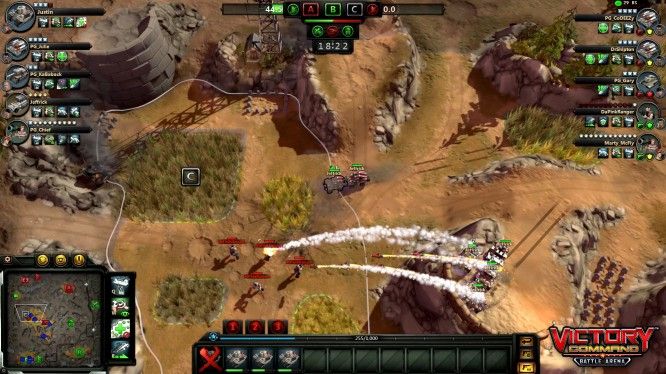 Victory Command takes the standard three-lane MOBA formula and throws it out of the window to expand further into real time strategy controls and tactics in an open-field arena. This openness gives players new ways to play, with larger scale strategies like flanking, ambushing and trapping which are sorely limited in a lane-based MOBA game, and with line-of-sight terrain, brush, heavy cover, vantage points, infantry-only paths, water features and more to use to your advantage, it could provide some pretty unique combat.
Players will have the ability to control 2 to 12 units of armored, recon, and infantry combat in Victory Command, with 15+ different types of companies, which can be improved and customized over time by gaining combat experience through 5v5 game play with regular content updates planned.
Fancy getting involved early? You can now sign up for a chance at Closed Beta access before Victory Command opens to the public Thursday May 14th through Saturday May 16th from 11am to 8pm PDT each day and you can find out more about the game here.
Source: Press release
Related:
Beta
,
Early Access
,
MOBA
,
News
,
RTS
,
Victory Command