Looks like we'll be seeing yet another survival sandbox game arrive, but this one's all Viking-y! Developer Encurio and Reverb Triple XP have made the Valnir Rok announcement, introducing the world to the upcoming game including plans to show off the title at this year's Gamescom.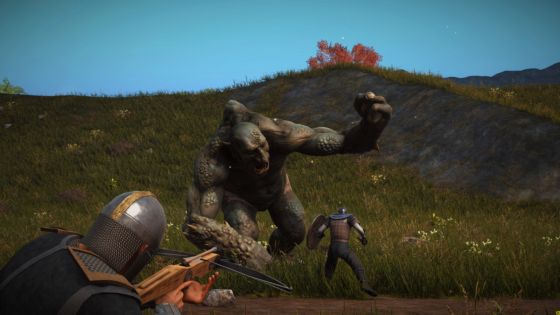 Let's let the PR blurb set the scene for a moment, shall we?
"Valnir Rok is an online sandbox survival roleplaying game inspired by Norse mythology. Players will awaken to find themselves on Valnir Island and must do whatever it takes to survive in a land of wild animals, mythical beasts, and violent men."
Valnir Rok has features that should be pretty familiar to sandbox MMO players. Players will be able to engage in combat, build and improve village structures, form a clan and battle other clans for control, and even discover ruin artifacts to earn favor with the gods.
Valnir Rok will make its way to Steam Early Access sometime this September and will be available for demonstration at this year's Gamescom. Until then, more information can be found on the game's official website and a trailer for the game can be seen below.
Our Thoughts
There's not too much that distinguishes Valnir Rok from other survival sandbox titles other than a theme right now, so we're hoping that we'll learn more about what will make this game stand out from the ever-growing crowd. We'll be sure to keep eyes on Valnir Rok as more information develops.
Source: press release
Articles Related to Valnir Rok
Citadel: Forged with Fire Preview
Dark and Light Confirms Steam Early Access Date
Fractured is Three Sandbox MMOs in One
Related:
News
,
Reveal
,
Sandbox MMO
,
Valnir Rok