After handing out promotional rewards to those attending the Warcraft movie in cinemas worldwide, Blizzard has decided to surprise some of its fans with a few digital rewards hidden inside select physical copies of the Warcraft movie DVD and Blu-Ray.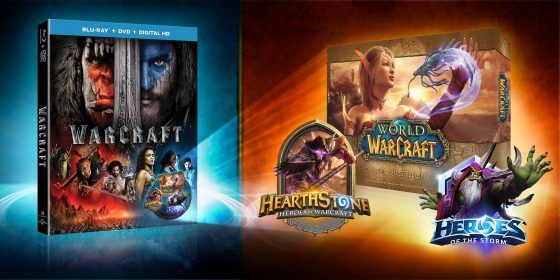 The rewards include the Medivh hero for Hearthstone, the Gul'Dan hero for Heroes of the Storm, and a digital copy of World of Warcraft. According to the original post, not all physical copies of the movie might include this promotion so buyers are advised to check if the retailer has promotional copies in stock.
The Warcraft movie will be released on DVD and Blu-Ray October 10 in the UK, and throughout September and October in Europe and most of the rest of the world.
Our Thoughts:
Assuming that the same audience who would see the movie in the first place might also pick up a physical copy, it seems a bit redundant to include a copy for World of Warcraft again, but perhaps the geographical availability of these promotional packs is supposed to compensate for the areas that were not covered by the offer at the time of the movie launch. In any case, World of Warcraft players are already looking forward to another Recruit-a-Friend reward, which is just as good an incentive as any other.
Your Thoughts:
What do you think about these rewards? Will you try to get a promotional copy as well or do you plan to pass on buying the Warcraft movie DVD completely? Let us know in the comments below!
Source: Battle.Net
Related:
Blizzard Entertainment
,
News
,
Promotion
,
Warcraft Movie
,
World of Warcraft