Update – March 30, 2017
Sadly it seems that Warcraft Tales wasn't to be this time around. While the team behind the project felt that they were well within the rules set out for World of Warcraft addon creators, especially considering Blizzard's support of the Starcraft Universe project, this time around Blizzard were not able to support Warcraft Tales as the legal department saw the fan creation as more of an "expansion set". Watch Bellular's video for more information.
Original Story
If you're anything like me, you like to read quest text. However, for an MMO as supermassive as World of Warcraft, that can probably be a tall order. Enter the Warcraft Tales add-on, a fan-run project that's seeking to make the game's narrative presentation more organic.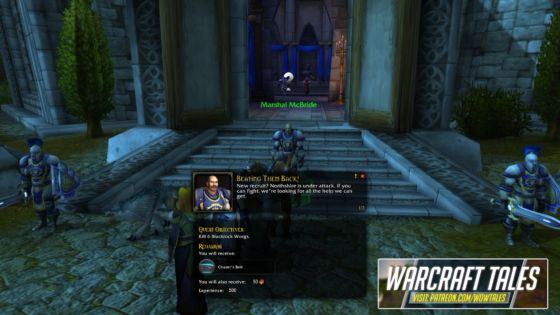 The brainchild of Michael AKA Bellular, Warcraft Tales will be an episodic, zone-by-zone release which will feature re-written and fully voiced quest dialogue through the entire length of the Human side of the game's level 1-60 journey.
Every single quest in the game is being retooled with a new UI and dynamic performances that illustrate the story of the quests being run by the player. There are plans for the add-on to introduce the same experience for other WoW races, with either the Tauren, Orcs or Forsaken slated to be next.
According to a post on Reddit, Bellular and his small team have already run the add-on by Blizzard and reportedly have been granted the company's blessing.
The first "episode" of the Warcraft Tales add-on focused on the Elwynn Forest zone is due to release on April 6th. While the add-on itself is completely free, Bellular is asking for Patreon support in order to fund production, software engineering and other costs associated with the project. A video talking about Warcraft Tales can be seen below.
Our Thoughts
We truly, truly hope that Blizzard is alright with this add-on's existence because we really want to see Warcraft Tales come to life and expand upon the game's lore for every race. While there are certainly concerns about how sustainable this project can be given its scope, we are most definitely hoping that Warcraft Tales can thrive.
Your Thoughts
Do you like the Warcraft Tales add-on idea? Do you think this is something that would enrich the leveling experience for World of Warcraft, or is this an add-on that's too big to be possible or serving a segment of the game that isn't large enough to matter? Give us your thoughts in the comments.
Source: Reddit
Articles Related to World of Warcraft
WoW Wednesday: What to Expect in Warcraft Patch 7.2
World of Warcraft 7.2 Discussed in Q&A Stream
EU World of Warcraft Services Rising in Price
Related:
Add-On
,
MMORPG
,
News
,
World of Warcraft