Digital Extremes, the devs behind the fast-paced online shooter Warframe, is trying a little something different. A new FPS CCG hybrid title called Keystone has been announced, along with word of the game's upcoming closed alpha and a little more information on just what the game is all about.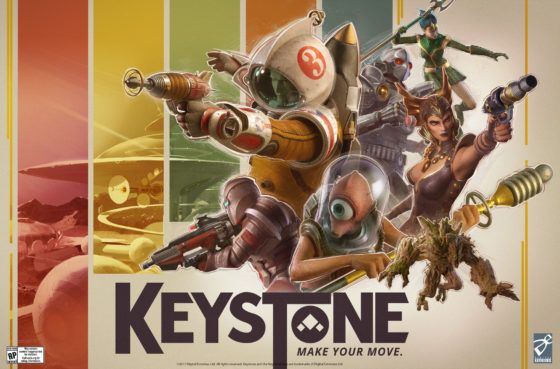 Described in the announcement as "a competitive first-person shooter with a distinct blend of first-person action and deck-building strategies", Keystone will pit players in a 70's-era pulp sci-fi universe where players apparently must play a giant board game of some description:
"Keystone will take players on a journey through a multi-verse that begins on the starting square of an intriguing, mystical board game. Players will wield unique decks of cards throughout the match that offer handy benefits, amazing powers, and fearsome weapons."
Deck-building appears to be the onus of Keystone, with the announcement mentioning that strategy in card choice will be important for either individual or team performance.
The reveal is, unfortunately, light on harder details, but the title will begin closed alpha later in the week. Those who are interested can sign up on the Keystone website.
Our Thoughts
So on the surface, the combination of FPS and CCG doesn't really sound like an obvious combination. Then again, we didn't really think that chess, turn-based strategy and team deathmatch would work out either, but Atlas Reactor is most definitely a thing. Are you intrigued to find out more?
Source: press release
Articles Related to Keystone
Warframe Plays Octavia's Anthem on Consoles
New Warframe Revealed During Livestream
F2P Kingdom: Warframe Free to Play is a Real Bang for the Buck
Related:
CCG
,
FPS
,
Keystone
,
News
,
Reveal