If you've been looking to revisit some classic territory in the world of Warframe on PC, Digital Extremes has you covered with a remaster of the Plains of Eidolon!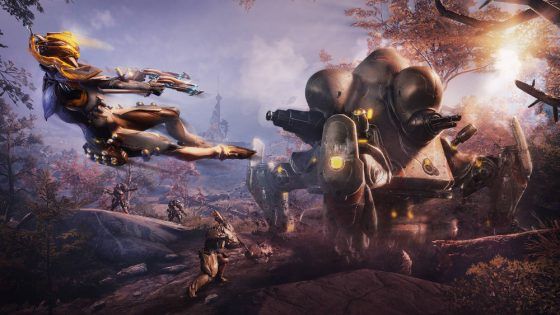 The publisher announced today that the game has received a new update that provides a visual overhaul of the breakthrough open-world from the game, which is available today. "Retrofit with the graphics technology created for last fall's Landscape Fortuna, Plains of Eidolon Remaster delivers dynamic lighting, textures and atmosphere, resurfaced terrain for better K-Drive Hoverboard action, and introduces conservation and a new Grineer menace, the wily Tusk Thumpers. Plains of Eidolon Remaster is free on PC today," the company noted in a press statement.
The trailer for the new expansion can be seen below, and shows just how much the team has made improvements on the visual side.

"The graphical overhaul will enhance every visual aspect of Plains of Eidolon Remaster. Warframe's open world will see advanced lightning techniques that bring brilliant lighting and shadow changes to the day-night cycle, sending god rays through more detailed trees, bush and fog, and will add crisp new texture details to the foliage and earthen landscape.

New terrain also provides more gameplay! For the K-Drive, players will experience new terrain to jump off and grind on, and they should keep an eye out for the new Tusk Thumper enemies, three different pneumatic ground-pounders that smash anything in their way as they crawl and leap across the Plains. Tenno can now earn a new badge for hunting and conserving three new animals on the Plains– previously only available on Fortuna– and special Floofs with which to decorate their Orbiters."
The update is currently available for PC. Don't worry, console owners, you'll be getting it as well, but a little later down the road. Yes, this includes Nintendo Switch as well.
Check out the awesome trailer and prepare to jump back into some Warframe action! It's available now as a free-to-play title on PC, Xbox One, PlayStation 4 and Nintendo Switch.
Related:
Digital Extremes
,
News
,
Nintendo Switch
,
PC
,
Playstation 4
,
Steam
,
Warframe
,
Xbox One