Warframe is celebrating its fourth year and doing it in a big way with the release of Octavia's Anthem, the first major update to the online shooter in 2017. The newest update for the PC version adds a unique new Warframe and several additional features while also prepping anniversary gift giveaways for players.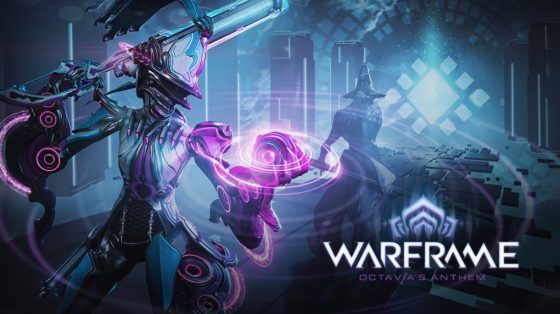 Octavia headlines the update and brings the distinct ability to use music as a weapon. Her Mandachord primary weapon allows players to create Melody, Bass and Percussion arrangements that can introduce unique buffs to players who perform actions to the beat of their songs. Songs can be crafted and even shared among players. Octavia also uses a selection of active skills that draws enemy fire and buffs allies.
Octavia's Anthem also brings a new quest, two unique weapons designed to work in sync with Octavia, and the new Captura feature that lets players take glamor shots of their favorite Warframe. Additionally, players will receive a free Dex Nouchali Syndana in their landing craft inbox on Tuesday, March 28th while also earning chances to win previous Dex anniversary gifts through Alerts from now until Monday, March 27th.
More information about the features in Octavia's Anthem can be found on the game's website, and an infographic outlining stats from Warframe's four years of operation can be expanded by clicking the image below.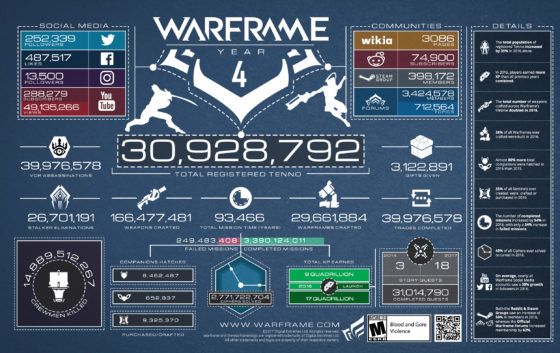 Our Thoughts
Octavia's Anthem is one fascinating update, particularly for the ability to use player-created songs as a buffing tool. We certainly wonder whether PUGs will coordinate long enough to follow the beat of Octavia's music, but are also eager to see the creative ways players will use the functions of the Mandachord's music creation tools.
Your Thoughts
What are your impressions of the Octavia Warframe? Do you think players coordinating attacks to the tune of player-crafted music is a good idea? Are there other features in this update you're interested in? Let us know in the comments.
Source: press release
Articles Related to Warframe
F2P Kingdom: Warframe Free to Play is a Real Bang for the Buck
Warframe Glast Gambit Update Infects Consoles
The War Within Boosts Warframe Players to All-Time High
Related:
MMO
,
News
,
Online Shooter
,
Update
,
Warframe