Give me land, lots of land, and the starry skies above, don't fence me in. PC players of Warframe will soon be able to roam as free as murderous wildebeest thanks to a recently announced Plains of Eidolon release window.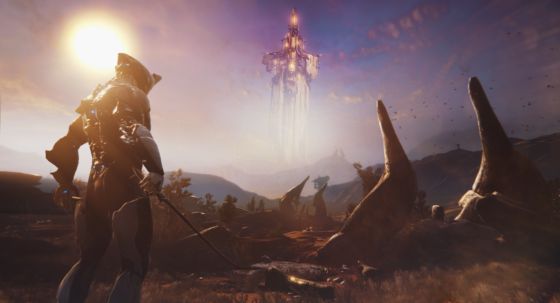 Plains of Eidolon will introduce Warframe players to a new open world zone complete with a day/night cycle, myriad missions, and activities like mining, fishing, and fighting the Grineer both on land and in the air for players of any level. The day/night cycle is also more than superficial eye candy: once night falls, powerful, towering Sentients known as Eidolon rise and only groups of Tenno can hope to engage them in combat.
The Plains of Eidolon update will also bring the new Warframe Gara along with her new weapons, a rework of the Operator-Warrior Focus to grant Operators a more combat-minded focus, and new mods and stances.
We still don't have a hard date for the Plains of Eidolon update, but PC players will see the content some time next week, while PS4 and Xbox One players can look forward to its launch in November. A trailer showcasing some of the new content can be seen below.
Our Thoughts
This update has the potential to completely change the entire paradigm of Warframe. Lots of other MMO players already experience large, open maps, but this is an absolute first for Warframe and could become its most robust and popular one yet while also opening the door to more content updates like this in the future. Obviously, we're pretty excited at the prospect!
Source: press release
Articles Related to Warframe
Warframe Plains of Eidolon Interview with Steve Sinclair
Warframe Details the Plains of Eidolon
Warframe's Chains of Harrow Releases on Console
Related:
MMO
,
News
,
PC
,
Release
,
Warframe