Warframe's Lunaro team sport game mode is coming according to a press release from Digital Extremes. Lunaro is touted as a "reprieve from battle" as Tenno battle using "skill, mobility, teamwork and creativity" in order to win matches for victory and honor.
Accessed through the Conclave, Lunaro pits teams of four against each other in what sounds like a mixture of soccer and rugby as teams attempt to shoot the Lunaro ball in to the opposition's goal while defending by either knocking the Lunaro away or taking out players with tackling. Lunaro will be available for download for PC players sometime this week, with PlayStation 4 and XBox One players able to receive the update soon.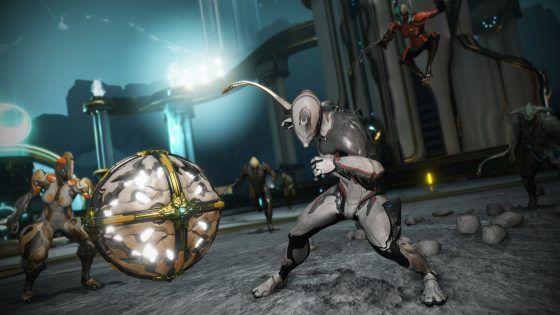 Lunaro is one of three planned major updates slated for Warframe through June and July, all culminating in the next major story content titled "The War Within". Teased in the press release were mentions of updates to the Star Chart, new companions and changes to the Archwing space combat mode.
Our Thoughts
Introducing sports in to MMO's is usually an interesting idea on paper, and can also bring a fresh breath of creativity to a game's PvP. We're looking forward to seeing how Lunaro plays, as well as hearing more about the new content coming to Warframe within the next couple of months.
Related:
E3
,
E3 2016
,
News
,
PvP
,
Team Sport
,
Warframe