Wargaming has something of a soft spot for the history and stories that have come out of World War II, and Christopher Nolan's upcoming action thriller "Dunkirk" has provided an opportunity for the company to share more of that love. The Wargaming Dunkirk crossover event will bring the story that inspired the film to all of Wargaming's MMO titles.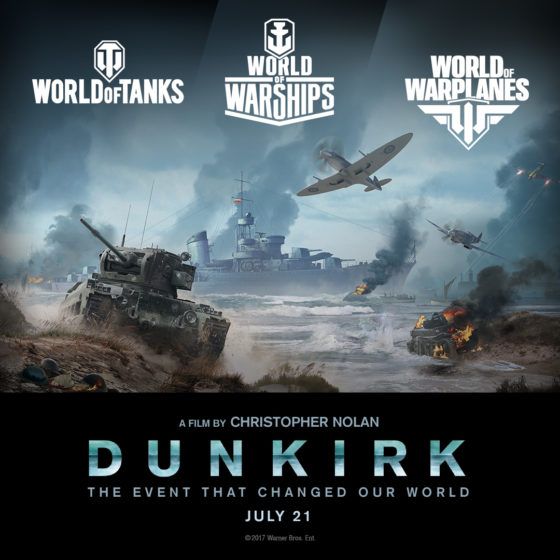 The movie is a dramatic retelling of the "Miracle of Dunkirk", an event that occurred between May 26th and June 4th, 1940. Allied forces were trapped on the beaches of Dunkirk, France by the Germans, and were only able to be rescued thanks to an evacuation effort mobilized by military and civilian vessels.
In commemoration of the events in history and in the film, World of Tanks, World of Warships and World of Warplanes will all be holding special missions in the "Remember Dunkirk" anniversary, and will also be offering unique emblems to players of either title.
"Dunkirk" will release in theaters on July 21st. A trailer teasing the Wargaming anniversary event can be seen below.
Our Thoughts
The story of the Miracle of Dunkirk could make for some compelling drama, both in-game and in film, so we're certainly looking forward to learning more about what Wargaming has planned for this special event. These three titles are definitely some of the best places for players to remember the events that unfolded during that time, but which one will you be playing specifically?
Source: press release
Articles Related to This Story
Massive Battles Coming Soon with World of Tanks Frontline Mode
New French Cruisers Steam into World of Warships
Wargaming Issues Statement on YouTube Censorship Threat
Related:
Crossover Event
,
Event (In Game)
,
News
,
Wargaming