To call the No Man's Sky NEXT update a game-changer isn't really a huge reach considering all of the features arriving with it. However, the devs are not going to let up after the update arrives as No Man's Sky weekly updates are on-deck after NEXT goes live.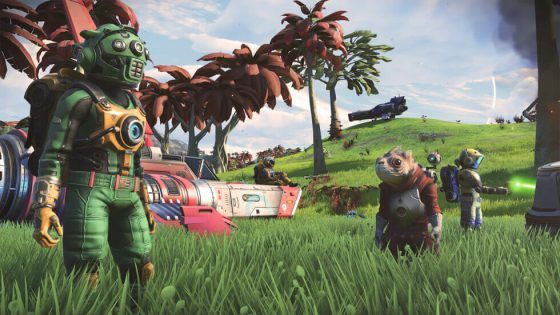 The weekly updates for the survival sandbox will arrive in the form of missions or events, with most of them focusing on bringing players to a specific part of the game's galaxy or achieving community goals. Successfully completing these weekly missions will net players a secondary in-game currency to purchase things like emotes and customization parts, and will eventually also offer unique ships and vehicles.
Hello Games' Sean Murray was quick to mention that the currency and its related in-game store are not tied to any microtransaction model. "This is not a loot box thing, it's not a microtransaction thing, it's 100% free," he said.
No Man's Sky will also be launching a new website known as the Galactic Atlas, which will let players see in-game events on a galaxy map and let players create their own points of interest. Portions of the galaxy most visited by players will also be officially recognized on the Galactic Atlas.
The first of these weekly updates is due to arrive to No Man's Sky the week following NEXT's launch on Tuesday, July 24th.
Our Thoughts
Clearly, it appears the folks at Hello Games got the memo about there not being a whole lot to do in No Man's Sky. We hope that these new events are interesting enough for fans of the survival sandbox and that the dev team are able to keep up this weekly cadence.
Multiplayer
,
News
,
No Man's Sky
,
Survival Sandbox
,
Update