RTS fans, Warhammer 40k fans, people who like Orkz, listen up! The WH40k: Dawn of War 3 release date has been officially confirmed by developer Relic Entertainment, with details on collector's editions being offered.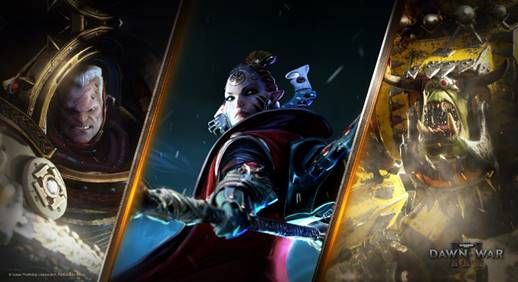 WH40k: Dawn of War 3 will release with three different editions: the Collector's Edition, which will have a premium disc book, a lenticular art card, the official soundtrack, a replica of the Godsplitter Daemon Hammer, and three mounted cloth faction banners; the Limited Edition, with the disc book, art card, and soundtrack; and a Standard Edition, which is simply the game itself.
Regardless of which edition is pre-ordered, everyone gets a Masters of War skin pack, which has a skin for each of the three Super Walker Elite units available for each faction
Warhammer 40k: Dawn of War 3 will release on April 27th. Pre-orders can be purchased at the official site, and a trailer showing off the Masters of War skins can be seen below.
Our Thoughts
Let's start the WAAAAAGH! Our preview of this game left us hungry for more so it's good to know we won't be left waiting for too long to get back into the action of Dawn of War 3. Consider us very excited to see this game's launch!
Your Thoughts
Are you excited for the release of WH40k: Dawn of War 3? Which faction are you going to be playing first? Is there another game in the Warhammer universe that you love instead? Give us your thoughts in the comments.
Source: press release
Articles Related to Warhammer 40k: Dawn of War 3
Warhammer 40k: Dawn of War 3 Preview
Warhammer 40k: Dawn of War 3 Game Designer Interview
Warhammer 40k: Dawn of War 3 Reveals Eldar Faction
Related:
Dawn of War 3
,
News
,
Release Date
,
RTS