Over the course of development, WH40k: Eternal Crusade has seen a lot of adjustments and its biggest one is recently available; the Eternal Crusade free to play release, which offers up four out of the five available classes and all of the game's factions.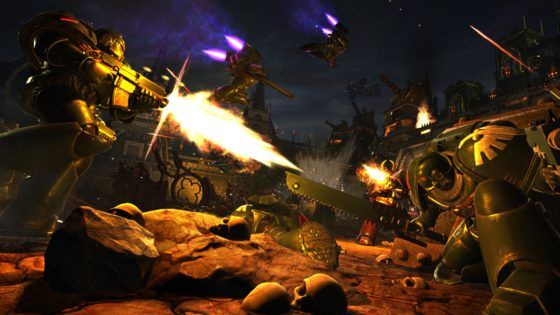 The decision to offer up all factions is an about-face from the "Free to WAAAGH" plan mentioned in the early stages of the game, where free players would be limited to playing only as Ork Boyz. According to senior producer Nathan Richardsson, the change was based on player input. "In our tests on pricing and positioning, people wanted more options, so we adapt and deliver," said Richardsson in a statement.
The game's F2P edition offers up normal character progression as well as all of the recent features introduced in the Tactical Escalation update, including new game modes and maps, the start of campaigns, and improvements to balance and servers.
If you like what you see, then upgrading will offer up Rogue Trader Credits, weapon and armor packs, and faster progression depending on which version of the game you purchase. For those who have been backers of the game during its early access period, the devs are offering a reward of 20k Rogue Trader Credits and a giftable version of the full game on Steam. More info can be found here.
Our Thoughts
It's clear that Eternal Crusade is a title that has had to shift gears and adapt over the course of its development, and this free-to-play launch is just another example. Ideally, these changes will draw in more players to the battlefield of Eternal Crusade, but we'll have to wait and see.
Your Thoughts
Have you been playing the Eternal Crusade free to play release? What do you think about the game's current state? Do you think a free to play shift is the beginning of the game's end? Sound off in the comments below.
Source: official site
Articles Related to Warhammer 40,000: Eternal Crusade
Warhammer 40,000: Eternal Crusade Review
WH40k: Eternal crusade Newsletter Discusses Future Plans
WH40k: Eternal Crusade Content Update 1 Incoming
Related:
Free to play
,
MMO
,
News
,
Online Shooter
,
Warhammer 40k Eternal Crusade