The latest WH40K: Eternal Crusade newsletter details developer Behaviour Interactive's vision for future updates of the action MMO.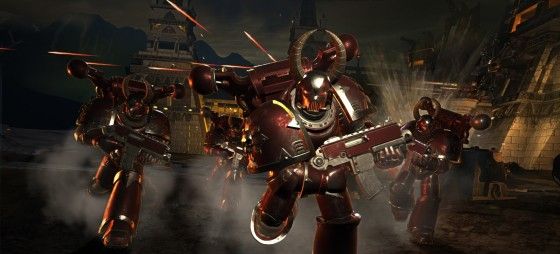 The newsletter starts off by discussing the reasoning behind the delay between PC launch and console launch, citing a three month lead time to get a product on to disc and in packaging versus "hitting a button" on Steamworks.
Past that, the newsletter goes on to discuss future gameplay features and how quickly they can become available for play. "With a foundation in place, making a system deeper or broader is easy. Adding more game modes, roles such as Warlords, classes, sub factions, maps, NPCs, weapons and meta-game elements is pretty trivial in comparison to developing the base systems," reads the newsletter. "While we can debate about the depth of the individual systems at launch, rest assured, they are scheduled for updates and depth within the first quarter of launch."
These new updates include mention of Tank Battles, asymmetrical large-scale PvE battles, Guild Ships and Guild Ship Invasions and PvPvPvE. "Despite popular belief, we have no intention of going anywhere; the intent is free lifetime expansions to reach the ultimate playground for your Warhammer fantasies! That is our mission," asserts the newsletter.
Our Thoughts
While the ease of updating Eternal Crusade is discussed in this newsletter, there isn't any mention of frequency or schedule beyond "first quarter of launch". We adore the enthusiasm of the Eternal Crusade team, but we'll have to wait and see how the plans they have for release actually play out. Regardless of when and how often, we're excited for Eternal Crusade's launch.
Your Thoughts
Do you think the devs at Behaviour Interactive can meet up with their expectations, or do you think it's better for them to only announce what's coming when it's closer to release? Tell us your thoughts in the comments.
Source: Newsletter
Articles Related to WH40K: Eternal Crusade
Warhammer 40k: Eternal Crusade PC Release Date Announced
Warhammer 40k: Eternal Crusade Chaos Powers Demonstrated in Livestream
Warhammer 40k Eternal Crusade PvE Mode Announced
Related:
News
,
Newsletter
,
Update
,
Warhammer 40k Eternal Crusade