Starting on May 18, a new form of premium currency will be used in WildStar in order to prepare for the game's launch on Steam. Instead of using NCoin, the in-game WildStar shop will utilize Protobucks.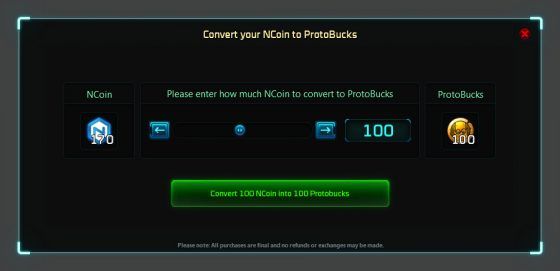 Protobucks will serve as a Nexus-friendly alternative to NCoin and are patently etched with the likeness of Phineas T. Rotostar, the most currency-conscious entity in the galaxy. After maintenance on May 18, players will be able to convert their NCoin into Protobucks at a 1:1 ratio.
This new currency can be used the same way that NCoin are currently used, but players will now have access to bonus tiers when purchasing currency bundles. Any purchase of $10 or more will include bonus Protobucks, up to a total of 5000 extra with the purchase of 8000 ($100).
Any players who recently purchased NCoin won't miss out on the deal either. Simply convert your currency to Protobucks between May 18 – June 15 in order to receive the promotional bonus currency at the same rate as the bundles. However, be aware that this is a one-way street. Protobucks cannot be converted back to NCoin.
Our Thoughts:
The switch to a specific WildStar-only currency allows the team to have more control over things like sales and shop pricing, but it comes at a cost of losing flexibility. It's nice to spend a certain amount of money and have the option to use that currency for a variety of different games. It's even suggested that NCoin might not be convertible in the future, which is a little concerning.
Source: Carbine
Related:
MMORPG
,
NCSoft
,
News
,
Wildstar