You can't keep a giant, rampaging Osun down for long, especially one that's been frozen for a long amount of time. So it is with Harizog Coldblood, the primary boss of the featured Coldblood Citadel dungeon coming to Wildstar in Power of the Primal Matrix.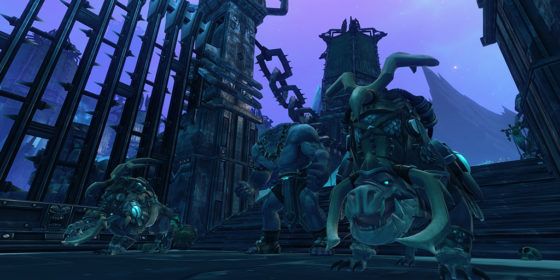 The developers have offered a sneak peek at the story and the bosses in Coldblood Citadel, which will see players trying to stop the Osun warlord from coming back to life after his defeat at Arcterra. Coldblood Citadel will feature one miniboss and three different bosses and is described as being a shorter dungeon, similar in length to Stormtalon's Lair or Kel Voreth.
According to the post, the Destination: Arcterra update opened up some new design opportunities for Coldblood Citadel. "With the addition of Arcterra and some fabulous new frozen visuals we found ourselves with a great opportunity to revisit those themes with a frosty flair," reads the post. "The strong theme also allowed us to put some of our newer spell effects to good use, such as the ability to slide players around."
Coldblood Citadel arrives with Power of the Primal Matrix, which is due to launch sometime in February. More about the new dungeon can be found here.
Our Thoughts
Harizog Coldblood was one pretty intense fight at the end of the Arcterra storyline, so we're looking forward to seeing what he and the rest of the Osun have in store in Coldblood Citadel. We're looking forward to this encounter, along with everything else due in Power of the Primal Matrix.
Your Thoughts
What do you think about the new dungeon? Are you interested in running this content, or is there another part of the upcoming WildStar update you're more interested in? Be sure to let us know below.
Source: official site
Articles Related to WildStar
WildStar Reveals the Power of the Primal Matrix
WildStar Livestream Offers a Primal Matrix Preview
Versus: WildStar vs. TERA
Related:
Dungeon
,
MMORPG
,
News
,
Preview
,
Wildstar