Over the past several days, WildStar has been teasing new content with a series of brief videos. That information has finally come to light as the game announces its latest content update, Power of the Primal Matrix, which grants players a new end-game progression system, new instanced content and a couple of other new features.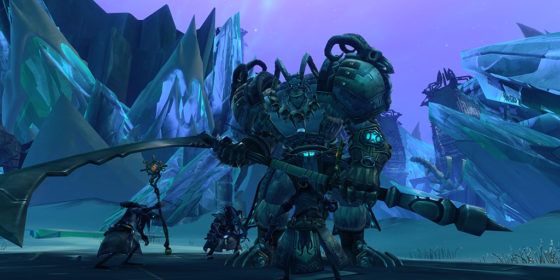 The star attraction of the update is the titular Primal Matrix, a system that lets level 50 characters gain more power through the collection of Primal Essence. This Essence is broken up in to four different types, and can be collected by completing instanced PvE, PvP, dailies or Contracts. Primal Essence is spent in the Primal Matrix to unlock "the latent power in every hero on Nexus" as well as new class abilities, though specifics of what the Matrix offers will be detailed later.
The update will also be adding a new difficulty scaling features for some of the game's PvE content, with Prime 0 replacing Veteran difficulty and Prime levels scaling upwards from there. The new difficulty setting will also be in place for two new dungeons arriving with the update; Coldblood Citadel and Evil from the Ether. The new difficulty scaling will also allow pre-50 instances to scale downwards to the lowest level character in the group, and will offer everyone involved level-appropriate rewards.
The Power of the Primal Matrix update is set to release sometime next month. Current details can be read here.
Our Thoughts
WildStar is starting off 2017 in a big way! The updates that have come to the game have been pretty solid overall, but this sounds like easily the meatiest piece of content to arrive to the MMO in a fair while. We can't wait to learn more about the Primal Matrix and everything else coming in the update!
Your Thoughts
Are you excited for the Power of the Primal Matrix update? What are you curious to learn about first? Do you think this announcement is enough to rekindle WildStar? Tell us what you think in the comments below.
Source: official site
Articles Related to WildStar
Versus: WildStar vs. TERA
Faction Barriers Coming Down in WildStar Redmoon Mutiny Update
Upcoming WildStar Quality-of-Life Features Detailed
Related:
MMORPG
,
News
,
Update
,
Wildstar