Veterans of WildStar know the true pain of the rune system. First you have to buy or craft expensive runes, then it costs money to unlock the slot, and finally there's even a fee for adding or removing runes.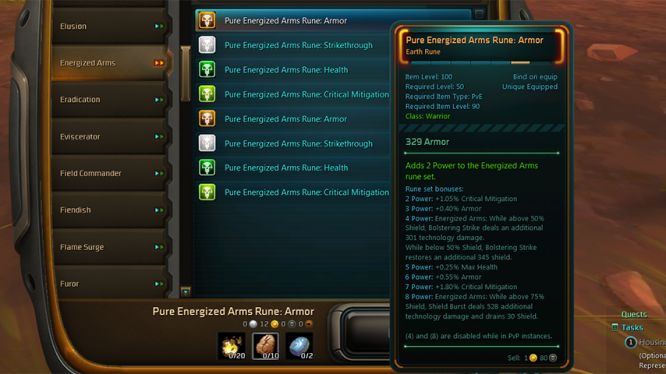 Thankfully, that is no longer going to be a problem in the near future. The next update for WildStar is going to lessen the expense of slotting runes, repairing equipment and using dyes. Furthermore, the drop rate for rune fragments is being increased and a vendor is being added that allows players to trade-in lower tier rune fragments for higher ones.
Having played WildStar on launch, I can attest to the expense of maintaining high-level equipment and runes. Running raids a few times a week became an expensive hassle that required additional grinding and the best fragments were insanely expensive. Hopefully, this will now make the game even more accessible to newer players and decrease the grind needed to simply enjoy the game.
Full list of updates:
Removing Runes through the "Destroy" button will no longer cost gold.
Gold cost for re-rolling runes will be reduced at all levels and rarities.
We are adding a method to extract runes from an item with gold. (This will go to PTR before going to Live)
Adjustments to repair costs to smooth it out and lessen the burden throughout the gear progression, particularly at the Vet Dungeon to Genetic Archive range.
Lowering the cost to use common, uncommon, and rare dyes.
Adjustments to Rune Fragment drop rates to increase the acquisition rates.
Addition of a vendor that allows the trade-in of lower tier Rune Fragments to gain higher tier Rune Fragments. (This will go to PTR before going to Live).
Source: Carbine
Related:
Carbine Studios
,
F2P
,
MMORPG
,
News
,
PC
,
Wildstar