It's that most magical time of the year. The time when people gather together and celebrate the holidays in their favorite MMOs. Wildstar Winterfest is going to be no different, with new and returning goodies that help the denizens of Nexus celebrate…for money!™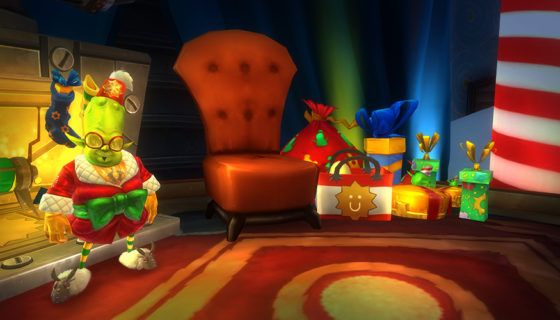 The Skymall makes its triumphant return, offering players who complete Holi-Dailies a reward of ColdCash. The currency can be used to purchase a large assortment of holiday-themed items, including a snow globe Orbitron mount, a new Housing Sky decor item and other mounts, costumes, and decor. The in-game store will also be offering time-limited exclusive items which can be purchased with Protobucks or Omnibits.
Winterfest will also feature the Snowtron Smash public event in the Parade Ground of Illium and Shindig Hollow of Thayd, where players take part in a king-of-the-hill style minigame involving riding a Snowtron 3000 mount while avoiding being knocked off by snowballs.
Winterfest is scheduled to run from December 18th through January 1st. Information about the event can be read here, and a trailer from "Papa" Phineas T. Rotostar can be seen below.
Our Thoughts
You have to smile at Wildstar's sense of humor – or don't, your choice – around this time of year. It looks like Winterfest 2016 will indeed be bringing a lot of goodies to fans of the game, and we're ready to see what sort of delights await us in the Skymall once more.
Your Thoughts
What do you think of this year's Winterfest? Are you looking forward to any specific piece of gear? Do you have other plans for another MMO holiday? Share them with us in the comments.
Source: official site
Articles Related to Wildstar
Faction Barriers Coming Down in Wildstar Redmoon Mutiny Update
Versus: Wildstar vs. TERA
Upcoming Wildstar Quality-of-Life Features Detailed
Related:
MMORPG
,
News
,
Seasonal Event
,
Wildstar