Overwatch wasn't certainly going to be left out of the holiday game fun. The latest developer update video from Jeff Kaplan has confirmed that the Overwatch Winter Wonderland event will be making its return to the FPS and what players can expect for this year.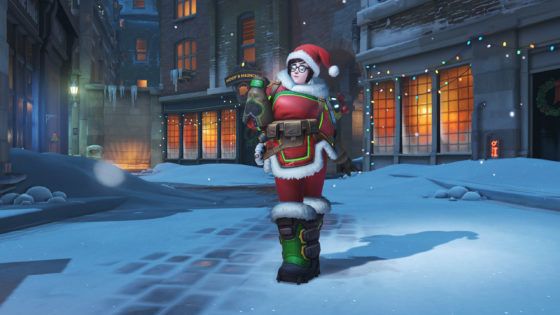 Kaplan confirmed that, of course, there will be new Legendary skins for players to collect this year, including a "long-awaited Hanzo skin" from the comics. Kaplan also confirmed that both Roadhog and Junkrat will be getting Legendary skins as well, with others coming that weren't directly mentioned in the video.
The video also confirmed that seasonal variations of several maps will be included this year, including the return of Hanamura and King's Row along with the Black Forest arena map. On the subject of the Black Forest, the map will be used in Mei's Snowball Offensive along with Antarctica.
Mei will also be taking center stage in a new event to this year's Winter Wonderland, Mei's Yeti Hunt. The mode will have one team of five Mei's versus one single Yeti (or more specifically Winston dressed as a yeti) controlled by a player. The mode will take place in the Nepal village and will have the Mei team trying to hunt the Yeti while the Yeti player hunts for meat scattered around the map to fuel his Primal Rage. If the Yeti gets enough meat to rage, the Meis will need to escape by using their Ice Walls or use an Ice Trap ability that will be unique to the mode.
"I know a lot of you are thinking it sounds kind of silly and kind of ridiculous, and I'm here to tell you it absolutely is," said Kaplan in the video. "But the point of these seasonal brawls are just to be fun and light and refreshing for a short period of time."
You can watch the full dev video below.
Our Thoughts
We are all for silly and ridiculous fun things in our Oh So Serious Shooter Game. Anything that will put fun first over metrics and numbers we support, and the snowball fights and Yeti Hunt mode sound like just the right kind of seasonal fun Overwatch could use. We are ready!
Source: YouTube
Overwatch League Skins Set to Go On Sale
Play of the Fortnight: Thoughts On New Overwatch Hero Moira
Play of the Fortnight: Overwatch Loot Boxes – Are They Bad?

Related: FPS, News, Overwatch, Seasonal Event