A press release has offered some information about the arrival of World of Warships German battleships to the title.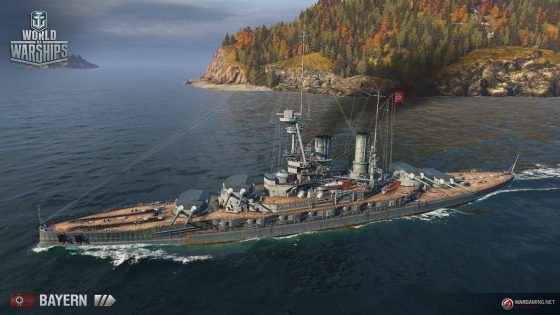 Eight new German battleships are arriving to World of Warships, including the Bayern and the Bismarck among other historic craft. The characteristics of German ships are a high rate of fire and incredibly heavy armor, allowing these ships to excel in close-quarters combat. At the top of the German ships tech tree are vessels that also feature "hydro-acoustic search equipment" that allows them to pick up opponents more easily.
In addition to German battleships, World of Warships will also include 10 British battleships coming in the fall, including the Caledon, the Edinburgh and Minotaur.
Some information about the German battleships out now can be seen at the World of Warships EU site.
Our Thoughts
Though most associate German naval warfare with U-boats, German warships were dangerous on their own. The designs recreated for World of Warships seem to favor aggressive and hard-hitting attack strategy. We're looking forward to seeing how the new warships will change the battlefield of World of Warships, as well as seeing what the British fleet will bring to the game later down the line.
Your Thoughts
What do you think about the German vessels? Do you like the ships that are out now, or is there a specific ship you're most looking forward to being released later? Tell us in the comments.
Source: Press release
Articles Related to World of Warships
Top MMO News: April 29, 2016
World of Warships Team Battles Coming in Update 0.5.3
World of Warships Introduces Project R
Related:
Content
,
News
,
Update
,
World of Warships