One is a mobile game featuring tank battles. Another is a series of tactical JRPG games set in an alt-universe World War II. As inconceivable as it sounds, both worlds are coming together in a World of Tanks Blitz crossover event with the Sega series Valkyria Chronicles.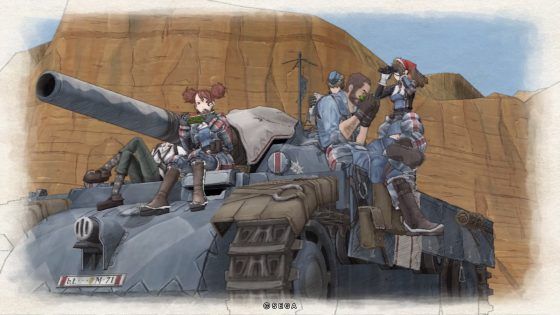 For those unfamiliar, Valkyria Chronicles originally followed the adventures of Welkin Gunther and his Squad 7 as they faced down the invading forces of the Gallian Empire in a Japanese anime-styled alt-universe World War II. The series featured command of tanks as well as several different ground troops in turn-based tactical battle.
Now, both Sega and Wargaming have announced that World of Tanks Blitz and Valkyria Chronicles will come together for a special event. According to Valkyria Chronicles producer Takeshi Ozawa, the team are looking to capitalize on the popularity of World of Tanks Blitz. "Taking this opportunity to work with the Valkyria series and join its battles feels like a step up for a tank game," he says. "We do hope that tank fans will get to know more about the Valkyria series through the collaboration."
What that collaboration will involve is unknown as of right now, with details being offered at this year's Tokyo Game Show. In the meantime, the collaboration announcement can be seen in the video below.
Our Thoughts
We definitely did not see this one coming! The combination of World of Tanks Blitz and Valkryia Chronicles is an unexpected surprise, but the more we think about it, the more interesting this idea becomes. If we get to command the Edelweiss, we'll be completely happy.
Your Thoughts
What sorts of things would you want to see out of this collaboration? Will you be checking out the event when it goes live in World of Tanks Blitz? Tell us what you think below.
Source: YouTube
Articles Related to World of Tanks Blitz
World of Tanks Blitz Review
World of Tanks Blitz Adds Japanese Tech Tree
World of Tanks Blitz Launches on Android
Related:
Crossover Event
,
News
,
SEGA
,
Valkyria Chronicles
,
Wargaming
,
World of Tanks Blitz