This April Fool's Day, tanks will do battle in the most unlikely of war theaters: Mars. The upcoming World of Tanks Mars Mode will drop Xbox One and PlayStation 4 players into a low-gravity, laser-firing dust-up on the surface of the red planet for a limited time.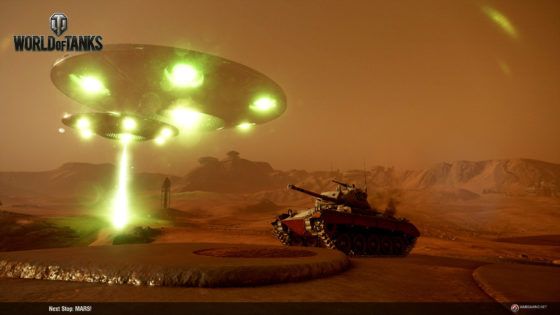 As this blurb from the press release states, nothing about this mode should be taken terribly seriously:
"Mars has been entirely overrun with alien spacecraft battling in the atmosphere, and tankers must engage in the land skirmish on the Martian surface to save April Fools' Day for the galaxy."
To join in the fun, all that players need to do is to select the Lunar Chaffee in the game's Garage and then select "Battle" to drop in.
The Mars map has several fun-filled features including an extremely low gravity physics model, teleportation beams firing from hovering UFOs, health power-ups, and of course tanks with laser beams. Best of all, Tank XP can be converted to Free XP and crews from any nation can be trained during the mode.
The Mars attack runs from March 31st to April 2nd. You can learn more details on the official site, and watch the Martian fight unfold in the trailer below.
Our Thoughts
This looks like a lot of fun. Low gravity environments and lasers instantly make nearly every battle arena better in our opinion, and the overall sense of campiness and whimsy inherent in the mode is a perfect match for April Fool's Day. We're looking forward to it!
Source: press release
Articles Related to World of Tanks
World of Tanks Players Raise Over $84k for Charity
Action Star Dloph Lundgren in World of Tanks Ad
WG Fest Offers Look Ahead for World of Tanks 2017
Related:
April Fools Day
,
Event (In Game)
,
MMO
,
News
,
World of Tanks