As we reported in December, Wargaming and UK-based War Child joined forces to offer up a charity bundle for World of Tanks players. Those players have responded to the tune of over $84k raised.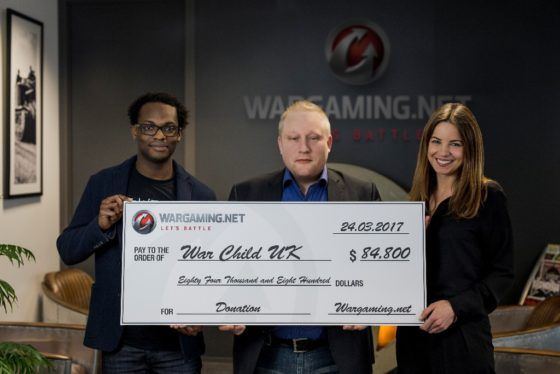 The sales of emblems and packages through World of Tanks raked in $84,800 for War Child, which works to provide relief for children in combat zones across the globe. The total comes by way of the game's community itself, with every penny donated raised by players.
Wargaming's European general manager Markus Schill expressed his gratitude at the outpouring of support from the World of Tanks playerbase. "It is very humbling for us to see just how supportive of War Child's immensely important work our community is and it is an honor for us to make this contribution in their name today," said Schill in a statement.
War Child's gaming development manager Wayne Emanuel echoed the sentiment and confirmed that the charity will be working with Wargaming once more for the next Armistice Day holiday. "We're really overwhelmed by the generosity of the studios that took part," said Emanuel. "We are already excited about the next Armistice where we hope we can build on this year's fantastic efforts and raise even more!"
Though the packs in question are no longer for sale, those who still would like to donate or learn more about War Child's mission can do so on their site.
Our Thoughts
Our heartfelt congratulations to War Child, Wargaming, and especially to the World of Tanks playerbase for drawing in so much support for this cause. Gamer philanthropy is perhaps old news with efforts like Child's Play, Extra Life, and the Humble Bundles, but it's always awesome to know that players are willing and very eager to support charitable causes.
Your Thoughts
Were you among those who offered support to War Child? What are your favorite gaming-related charities? Share your thoughts below in the comments!
Source: press release
Articles Related to World of Tanks
Action Star Dolph Lundgren in World of Tanks Ad
WG Fest Offers Look Ahead for World of Tanks 2017
World of Tanks Comic Book Release Date Announced
Related:
Charity
,
MMO
,
News
,
Wargaming
,
World of Tanks